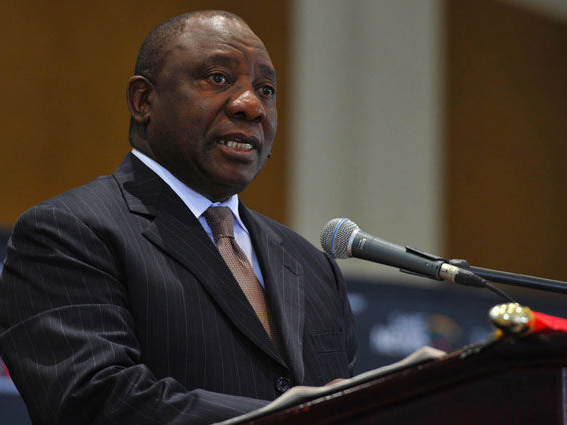 By– SAnews.gov.za
Cape Town – Deputy President Cyril Ramaphosa says reading does not only broaden your skills and knowledge, but it opens them up to a world of possibilities.
The Deputy President said this when he went to the Harare Library in Khayelitsha to encourage young people to pick up a book and read.
He said reading will help young people and all South Africans to come up with ideas that can improve the lives of all South Africans.
"We must become a nation that can be called the 'people of the book'. We would like South Africans to be known as people of the book, out of those book derives knowledge, innovation, creativity, ideas and proposals about the future of our country.
"I would like you to get excited about reading. I am reading an exciting book now. I always feel like every minute I spend at a meeting is a wasted minute because I cannot wait to get back," he said on Wednesday.
When the Deputy President arrived at the library, he immediately went to the front desk of the library and filled-in a membership form before receiving his membership card.
With the card, he can borrow up to three books at a time and access other library facilities like free wifi.
After greeting librarians and taking a quick tour of the library's facilities, he sat down with school children and asked them what books they were reading.
He was accompanied by Arts and Culture Minister Nathi Mthethwa, Deputy Minister Rejoice Mabudafhasi, Telecommunications and Postal Services Minister Siyabonga Cwele, Deputy Minister in the Presidency Buti Manamela and Cape Town Mayor Patricia De Lille.
The Deputy President challenged young people to read as many books as they can, and get excited about reading books.
He said he used to read 40 books a year, but that he has since slowed down to 30.
"I grew up in Soweto in Johannesburg and we did not have a library. I used to read a lot growing up but reading meant getting onto a train to Johannesburg to go read book.
"I used to go to the library religiously, every week … I almost brought them back on time. The library was my refuge, my fun place. That is why I like to play because playing for me is reading," he said.
He said books also enriched the society with information and helps communities come up with ideas to uplift themselves to improve their own lives.
Former political stalwarts who drafted historical life-changing documents, like the Freedom Charter, were avid reader, the Deputy President said.
One of several authors who attended the event called on government to buy books from local authors and to place them at libraries.
"Only 14% of South Africans love books. That is really bad. We want to encourage all of us to read. There should be no substitute for books in the lives of young people.
"The call that government should make more books available is a very good call and it is a call we will heed.
"We would like our young people to be addicted to reading and not to be addicted to drugs and alcohol …not boys and girls, but books," he said.
Earlier on, Minister Cwele announced that to compliment the ICT facilities at the library, he had brokered a sponsorship deal with a private company to donate an additional 30 computers with connectivity to the library.
Deputy Minister Manamela, who is responsible for youth development, said young people should be encouraged to read by the Deputy President's message.
"When we talk to young people, we will also encourage them to form book clubs and tell them that when we read, we equip ourselves with knowledge, we empower ourselves," he said.