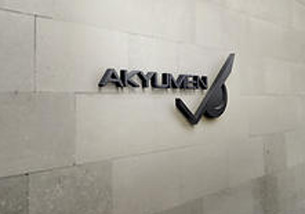 Launch Accompanied by Release of 'Akyumen Falcon,' the World's First Patented Projector Educational Tablet Running on Microsoft Windows 10 OS
Allimni (3allimni.net) and Akyumen Technologies Corp (Akyumen) executed an agreement to launch a Windows 10 Version of the Akyumen Falcon Projector Tablet at the Microsoft Global Education Partner Summit in Redmond, WA on February 3rd, 2015. Allimni has given Akyumen a Pre-Order for the cutting edge devices, and will be distributing the Akyumen Falcon Projector Tablet with their educational platform and content in the Middle East and Africa.
"Microsoft Windows 10 OS on Akyumen's powerful Projector Tablet technology will be a game changer for educating students, training teachers, Tele-Medicine, and Mobile Entertainment Applications including playing Microsoft Windows Compatible Games using Akyumen's wireless Bluetooth Game Controllers," said Aasim Saied (Chairman & CEO of Akyumen) at the Microsoft Global Education Partner Summit.
Mr. Saied explains: "Akyumen is a firm believer in promoting education and will subsidize the price of their devices for educational use, to help in solving the lack of available funding for schools to afford quality technology."
Students need devices that can reliably provide a platform for educating and devices that can last and run efficiently. Akyumen's patent pending Projector Tablet Technology coupled with Windows 10 OS from Microsoft enables the students a lightweight energy efficient tablet that can project the display up to 100 inches.
Remote locations that lack the proper educational resources and tools, can utilize a single Akyumen Falcon Projector Tablet to educate a whole classroom of students by projecting educational videos with one click of a button. This revolutionary patent pending technology designed and developed by Aasim Saied was envisioned for educating the world will come to fruition this year in several parts of the world that are in need of a technology that can really make a difference.
Allimni (3allimni.net) an initiative aimed at raising the bar on education quality in the Middle East and Africa, has revealed its plans to launch the region's first-of-its-kind online education platform that will allow more self-development among educators and encourages increased collaboration across educational and academic projects. The Allimni platform will be launched on Akyumen Devices with Windows 10 OS.
The privately owned regional corporation, which is headquartered in the UAE and has regional offices in Jordan, aims to create an Arabian parallel knowledge exchange community of experienced providers, educators, and knowledge learners to enhance learning outcomes and bridge the gap on skills required in private sector. Looking to reinforce their efforts among local knowledge experts, Allimni (3allimni.net) will also be exclusively releasing the 'Akyumen Falcon,' the world's first-ever patented projector educational tablet.
According to Mr. Isam Shahwan, CEO and Founder, "3allimni.net will offer educators and knowledge experts' key advantages including the ability to promote themselves online — creating more visibility through their profiles." Organizations can also tap into the online platform to recruit top talent. Allimni acts as a strategic tool that allows for knowledge masters to create additional income based on their skills and value through the exchange of knowledge and expertise. The concept is similar to the Gerson Lehrman Group where knowledge experts are tapped for their knowledge and compensated for their services. In addition, the online portal will offer other services and products including virtual labs, a educational gaming portal, a knowledge center, virtual educational institutions, and an online community of fellow educators. 3allimni.net will also feature an online store offering a wide range of products such as books, gadgets, and learning devices.
"We are pleased to announce the launch of 3allimni.net, a new online portal that will definitely bring a big boost to the careers of educators in the region," said Eng. Sobhi Batterjee, Chairman, 3allimni.net. "This strategic online platform falls in line with the vision of His Highness Sheikh Mohammad Bin Rashid Al Maktoum, UAE Vice President and Prime Minister and Ruler of Dubai, to fully develop the country's academic and educational segments. As such, we are also releasing the Akyumen Falcon — a revolutionary new tablet that reflects our commitment towards introducing more modern ways in improving the value of knowledge providers and learning mediums."
Mr. Shahwan further shared that the test phase of the devices will start in Summer 2015 and will be launching the first phase of the new online portal pre-loaded in the Akyumen devices targeted to the K12 Middle East markets, which are currently made up of more than 62 million students and 7 million educational instructors in the third quarter of 2015. The second phase of the launch is expected to reach out to students from Higher Education via a B2B offering and for the launch in the Africa market that is expected to be released in the fourth quarter of 2015 onwards.
The Akyumen Falcon Tablet is a portable, lightweight, and a easy-to-use tablet, ideal for today's various education needs. The tablet offers key features like HD quality bright projection technology and high capacity memory. The new devices comes with built in memory ranging from 64 GB to 128 GB, which can also accommodate a 128 GB Micro SD card, High definition projector technology at 40+ lumens brightness, ports for HDMI, USB, Mini USB and high quality Audio technology, a Special 8 Mega Pixel High Quality Camera to do video conference and project the user on the screen through the devices built-in HD projector. The devices for education will run on Windows 10.
"Akyumen is excited to launch such a device with Windows 10 OS for the purpose of use in schools and educational institutions," Aasim Saied, Chairman & CEO of Akyumen Technologies Corp.