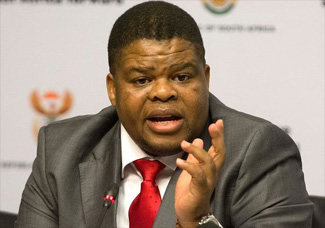 By- SAnews.gov.za
Experts in cyber technology say care must be taken to balance the advancement of technology with safeguarding national security.
Stakeholders in this field, including think tanks, policy commentators and political analysts, met in Pretoria on Friday for discussions hosted by State Security Minister David Mahlobo.
Consensus is that because cyber technology is a borderless platform, this creates a breeding ground for more sophisticated threats such as cybercrime, cyber terrorism, cyber warfare and cyber espionage.
Government and the private sector agree that stronger partnerships must be formed to safeguard South Africa's national security and its attraction as an investment destination.
Today's session formed part of the National Imbizo Focus Week, which has seen several Cabinet Ministers and their deputies going to communities to explain government's programme of action.
It interrogated the question of balancing the often competing rights of access to information with the obligation to uphold national security as well as perspectives on the role of intelligence in a democracy.
Minister Mahlobo committed government to strengthening the early warning systems to respond adequately to the ever changing domestic and global security issues.
He said government's response is already well captured in the National Cyber Security Policy, which aims to promote a cyber-security culture and demand compliance with minimum security standards. It also strengthens intelligence collection through establishing public–private-societal partnerships.
However, citizens should serve as a powerful frontline defence, according to the commentators. This can be done through more public awareness and education on cyber security, co-operation and partnerships with civil society.
The importance of national cyber security was recently highlighted when a 15-year-old school girl from Cape Town was removed from a flight to Johannesburg by police last weekend under the suspicion that she was going to board an international flight to join the Islamic State (IS).
It is believed the teenager was actively engaging with IS recruiters on social media networks.
Other cases that highlight cyber security include the South African Police Service website hack in 2013 and system breaches at a number of government entities such as the South African Revenue Service, Postbank and the Alfred Nzo District Municipality.
Role of intelligence
The session also interrogated the role of intelligence in a democratic state as well as the definition of national interest.
Minister Mahlobo said national security has been defined in terms of the ability of any state to protect its interest from external threats.
These interests are broadly defined as territorial integrity, sovereignty and independence of the nation.
However, in a web of international relations the threat to security is not from one nation to another but also from other non-state sources of insecurity.
"We need to expand the traditional notions of security to address the non–traditional threats and so develop a comprehensive approach to security," the Minister said.
It was for this reason that government extended the security paradigm to address the rapidly growing non-traditional threats like the struggle for resources embedded in the pursuit for energy security, environmental degradation, forced immigration and international terrorism.
On the question of the role intelligence in a democratic South Africa, the policy commentators questioned "who then guards the guardians?"
The State Security delegation emphasised that South Africa is a country that has institutions and laws by which they have to oblige.
"The intelligence services have been given special powers but these powers must be exercised in accordance with legislation, regulations, guidelines and rules," said Minister Mahlobo before reiterating that the Constitution is the supreme law of South Africa.
Minister Mahlobo said there is a need to appreciate the complex issue of secrecy in a time of heightened danger. He said transparency will be promoted where possible without compromising their operations.
This approach, he said, will encourage the rule of law, a necessity for building and maintaining a cohesive society in which citizens on the whole take full responsibility for themselves, security of the State, infrastructure and freedoms.