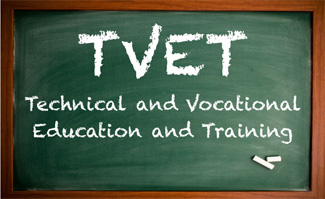 By– SAnews.gov.za
Pretoria – Deputy Minister of Higher Education and Training, Mduduzi Manana, has encouraged learners to consider Technical Vocational Education and Training Colleges (TVET) as their alternative to university education.
Deputy Minister Manana made the call on Tuesday during the roll out of the 2015 Apply Now/Khetha Career Guidance Campaign at three schools in Limpopo.
The Apply Now Campaign, which runs from March to September across the country, is aimed at encouraging learners to apply on time for admission to post-school institutions and avert possible stampedes and long queues that take place at the beginning of the academic year.
The Career Guidance component of the campaign seeks to inform learners about career choices available within the Post-School Education and Training (PSET) sector.
It also seeks to inform learners about things to look out for when choosing institutions of higher learning to avert being conned by unregistered and bogus colleges, which offer them unaccredited qualifications.
During the campaign, Deputy Minister Manana interacted with Grade 9, 10, 11 and 12 learners at Rekhuditse Secondary School in Uitvulgt, Thlakanang High School in Mamaneng and Pezunga Secondary School in Mokwaneng.
The Deputy Minister shared information on various career choices especially those in high demand, higher learning institutions they can further their studies as well as information on how they can access National Student Financial Aid Scheme (NSFAS).
He encouraged learners to enrol at the TVET emphasising that the skills needs of the country necessitate massive production of artisans from colleges.
He also informed learners that the first week of August every year is now the TVET Week where colleges are required to host learners from high schools during their Open Days.
The Deputy Minister further encouraged learners to use their cell phones to reach the department's Career Development Services Centre, which assists learners with career advice.
Learners can access the Career Development Services Centre through SMS or "Please Call Me" at 072 204 5056, telephone 086 999 0123, E-Mail careerhelp@dhet.gov.za, Facebook www.facebook.com/careerhelp, Twitter: http://twitter.com/rsacareerhelp,Website www.careerhelp.org.za, National Career Advice Portal: http://ncap.careerhelp.org.za or Walk-in Centre at 123 Francis Baard Street, Pretoria