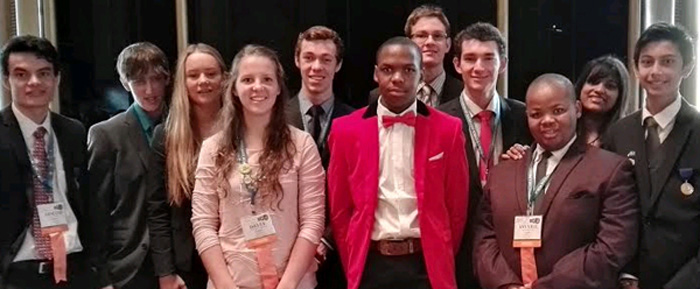 Eleven high school students from across South Africa have joined 1 700 learners from 75 different countries to compete at the 2015 Intel International Science and Engineering Fair (ISEF).
ISEF is an annual science fair where young scientists from around the world can showcase the innovations that saw them win national science fairs in their home countries.
The winner of the $75 000 (about R900 000) Gordon E Moore Award will be announced this Friday, the 15th May.
"Time will tell if one of the African countries will nab the prize, and the glory," Intel said.
The following South African learners join 26 other teenagers from Kenya, Nigeria and Egypt, who are also representing Africa at the competition.
Anna Midgley, a 16 year old from Herschel Girl's high school in Cape Town, looked at high-protein fynbos nuts and their potential to be a crop.
Armand Duvenage, a 17 year old from Hoerskool Garsfontein in Pretoria, has designed a mobile energy management system to enable the monitoring of energy usage in a home or small industry.
Avuyile Mbangatha, a 17 year old from Stirling high school in East London, is applying worm tea to crops in developing communities to increase food security and alleviate poverty.
Bernard Smit, an 18 year old from Hoerskool Waterkloof in Pretoria, has designed a method to generate eco-friendly and sustainable energy by generating electricity with Magnetotactic bacteria.
Fritz Keyzer and Josiah Senior, two 17 year olds from Pinelands High School in Cape Town, have created a unique portable power source for use in developing communities.
Iselle Van Den Heever, a 16 year old from Jim Fousché high school in Bloemfontein, has developed a simple apparatus that can easily determine the duration of a sidereal day.
Nishka Ramkhelawan, a 16 year old from Ladysmith High School, has designed and built a portable and user-friendly alarm device for mobility-assisted devices.
Roland Dubb, a 16 year old from Herzlia High School in Cape Town, has looked at making fuel cells cheaper to produce by including palladium as an anode together with platinum as a cathode.
Siyabonga Nkosi, an 18 year old from Kiriyatswane High School in Secunda, has built a basic fuel cell using loamy mud to generate electricity.
Tyrique Byroo, a 15 year old from Star College Boys High in Durban has created dye-sensitised solar cells using organic chemical dyes, namely berries, to reduce the cost of solar energy.