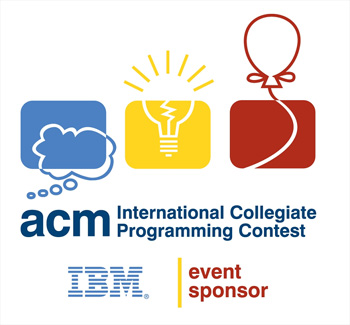 Under The High Patronage of His Majesty King Mohammed VI of Morocco, the next generation of elite computer software engineers will meet in Marrakech on May 20 to compete in the 39th Annual ACM International Collegiate Programming Contest (ICPC) World Finals sponsored by IBM (NYSE: IBM) and hosted by Mohammed V University, Al Akhawayn University, Mundiapolis University, and The Moroccan ACM.
Headquartered at Baylor University and known as the "Battle of the Brains," the world's oldest, largest, and most prestigious programming contest will take place on the African continent for the first time. The contest serves as a proving ground for the top collegiate programmers, challenging them to solve a series of complex real-world problems in just five hours. Huddled around a single computer, the 128 teams of three students will race against the clock in a grueling battle of logic, strategy and mental endurance.
The 128 World Finalists emerged from local and regional ICPC competitions this past fall. Initially, selection took place from a field of more than 300,000 students in computing disciplines worldwide. A record number of students advanced to the regional level, as 38,160 contestants from 2,534 universities in 101 countries on six continents competed at more than 450 sites, all with the goal of earning one of the coveted invitations to Morocco. Of the 128 teams competing in the World Finals, 23 represent the United States.
"In 1970, the ACM-ICPC began as a competition among the universities of Texas and has transformed into a worldwide phenomenon over the past four decades" said Dr. Bill Poucher, ICPC Executive Director and Baylor University Professor. "This year further illustrates the global nature of the contest with the first World Finals in Africa. We're thrilled to open doors of opportunity for these talented young students as they put their creativity and technical expertise to the test to tackle real world challenges in a competitive environment. We are excited to see this elite level of talent compete in Marrakech with IBM as sponsor and a trio of fantastic universities – Mohammed V University, Al Akhawayn University and Mundiapolis University – and The Moroccan ACM as hosts."
The contest will begin at 9:30 a.m. local time in Marrakech on May 20. A live broadcast will air on ICPCLive.com and live contest standings will be available on MyICPC.ICPCNews.com.
"As the contest sponsor, IBM's goal is to celebrate the world's best computing students, expose them to key technology trends such as cloud computing, and provide insight that will help them successfully transition into business and technology leaders," said Gerald Lane, ACM-ICPC Sponsorship Executive and Director, IBM Open Technologies & IP. "IBM Cloud is designed for business and is well suited to help companies transform their operations in today's digital era. According to industry analysts, nearly half of enterprises will have hybrid cloud deployments by 2017, making this a rapidly growing field with tremendous employment opportunities for the students competing at this year's contest."
"We are extremely honored that the ICPC World Finals in Marrakech are being held under the High Patronage of His Majesty King Mohammed VI. This is a huge privilege for the ICPC, and a great demonstration of the importance of both IT and education for Morocco," said Sidi Ali Maelainin, ACM-ICPC 2015 World Finals Director, Founder and former Regional Contest Director of Arab and Africa Regional Contest. "We are grateful to IBM for facilitating a hackathon activity focused on education and for offering us the use of IBM Bluemix technologies. We thank the ICPC elite programmers, who are participating in the hackathon to create great innovative applications that will help improve the Moroccan elementary school system. Perhaps the very same schoolchildren that they will be helping now will one day follow in their footsteps."
"Supporting the ICPC is just one of IBM's initiatives to develop technical talent in Africa," said Hassan Bahej, Country General Manager, IBM Morocco. "The IBM Africa Technical Academy and Middle East and Africa University Program help local IT students and professionals cultivate skills in areas such as analytics, systems of engagement and Cloud computing that are crucial to the economic development of the African continent. We are excited to build on the success of these programs by hosting the ICPC World Finals in Marrakech and furthering the development of talent here."
"I'm proud that our students have the opportunity to compete with their peers from some of the most prestigious universities in the world," said Dr. Driss Ouaouicha, Al Akhawayn University President. "Such interactions can only benefit them by improving their technical and interpersonal skills. In particular, they will experience cultural exchange, tolerance and friendship. It is also a great opportunity for Morocco to host such an event."
"This competition aims to develop tomorrow's leaders as history has proven that ICPC finalists can have great futures," said Dr. Saaid Amzazi, Mohammed V University President. "It also combines IT skills with creativity, teamwork and innovation, making this a great experience for our students. We really thank ACM-ICPC for choosing Morocco and IBM for their support in the organization of this great and unique competition."
"It is a great honor for Mundiapolis University and Morocco to host this prestigious ICPC World Finals contest and welcome elite students from all around the world," said Dr. Amine Bensaid, Mundiapolis University President. "It is a great opportunity to stimulate our students' passion for innovation and creation. I would like to thank in particular the students and professors engaged in the competition and wish them good luck."