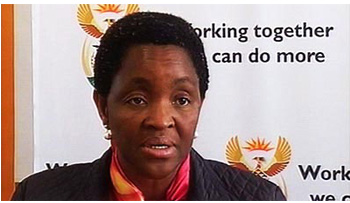 By – SAnews.gov.za
Social Development Minister Bathabile Dlamini has handed over a newly-built early childhood development (ECD) centre to the community of Kwa Langa, in the Western Cape, following a fire incident that left the centre in ashes.
The Minister's visit to the area to hand over the new centre comes as the country prepares to commemorate Child Protection Week, a programme that seeks to build on initiatives taking place within communities to protect and develop children.
Upon her arrival at the Dalukhanyo ECD Centre, she inspected the newly built classrooms for toddlers, a jungle gym and a food garden, before interacting with toddlers and volunteer teachers at the centre.
In an interview, the Minister said the handover of the school was significant as early childhood development has become a top priority for government.
"The significance of this place is that it is an ECD. When we visited the area, it was part of the Mikondzo programme where we visited a few areas and we found out that classes were burnt down.
"I instructed the National Development Agency to raise money so that we could refurbish it. Later, we found out we needed to build it from scratch," said the Minister.
She said toys, books and a jungle gym were also donated to strengthen the children's bodies and cognitive development.
"There is also a garden because our children must eat nutritious food so that their brain can develop," she said.
The Minister said the first few years of a child's life are very important, which is why a decision was taken that ECD centres would be given all the support they needed.
In the Department of Social Development's Budget Vote speech to the National Assembly just over a week ago, the Minister said the universal access to ECD centres remained a top priority for government.
She said the department would continue to promote the establishment of non-centre based ECD services to children in poor communities, rural areas, informal settlements, farms as well as children with disabilities.
Non-centre based ECD services such as mobile ECD and toy library programmes are already being rolled out in the provinces.
Efforts are being made to ensure that ECD infrastructure is adaptable to the needs of children with disabilities.
Dalukhanyo ECD coordinator Yolisa Gqirana said the centre, which was established in 1986, was burnt to ashes in January last year, due to an electrical fault.
She said following the Minister's visit, three classrooms as well as other facilities were built and that the centre now houses 150 children who are looked after by 10 volunteer teachers.
Minister saddened after fire kills four Cape Town children
On Tuesday morning, the country woke up to the news that four children – girls between the ages of 18 months and three years as well as a six-year-old boy were killed after a fire damaged four informal structures and two formal structures in Khayelitsha.
The Minister said she would make an effort to visit the families of the four children to offer her condolences and pay her respects.
"It is sad. At all times when this season comes, I get very tense.
"I think this is very, very unfortunate. It happens at a time we have to celebrate Child Protection Week, when Africa is about to celebrate the day for African children and just before International Children's Day.
"These are the issues we are going to be talking about during Child Protection Week. At most times, we stay with very vulnerable people that need our full protection. I think it is very sad that this happened and we are going to talk to our colleagues and find time and go and see the affected families to pay our respects.
"What we must aim for now is that no other child must die because there was fire or because there was too much rain. We need to develop tactics of protecting our children when this season comes," she said.