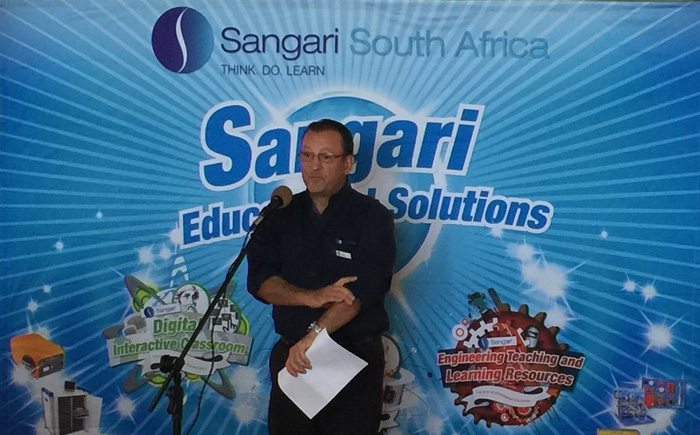 Speaking at the company's 20th birthday celebrations, Bez Sangari founder and CEO of Sangari South Africa, said that one of the company's dreams has been to provide free STEM (science, technology, engineering and mathematics) education to help uplift individuals and schools who struggle with these subjects.
"This has been difficult because our company's primary business is STEM education, and we can only be sustainable together with partners contributing financially."
"However, having waited for sometime for someone to help start this process, we have decided that we will start and hope that others will join in with us to establish a sustainable and quality-driven free STEM education," he said.
"Today smart technology is being adopted into schools, however we find that most of the schools do not have the software required to make this smart technology productive. It's like having a car but no petrol."
Sangari already provides free curriculum-aligned software with its iBox for schools, having spent millions of Rand on the development of the software.
"We realised a long time ago that teachers do not have the time or capacity to develop lessons using these new technologies. So to help, we developed curriculum-based lessons covering maths and science for high schools. Sangari is now finishing the same for primary schools," he said.
"The impact of the content has been exceptional and we have received praise from teachers, principals and education departments. This has given birth to the idea of changing the content into a student-friendly format and providing it on a Learner Management System, which can be used in schools or from home, where the learner has internet access."
"There are other companies who provide a similar service, however at a huge cost. We will be the first to provide access to this content for free," he said.
"These past 20 years have taught me that the biggest decisions we make in life are not based on business assessment or even logic. Generally it's the heart and not the head that makes them and often they become the best decisions we ever make."
"And this forms the basis of our decision to provide access to free STEM content through our e-learning platform. There is a need out there and we want to meet that need. Education and skills are two challenges facing South Africa and we want to contribute to addressing these needs."
During Sangari's 20 years, it has achieved a number of firsts. The company made the first commercially available small-scale laboratory in collaboration with the North West University and was the first to make a Mobile Interactive Classroom, the iBox, a first in the world. Sangari was also the first to bring CAD design into South African primary and secondary schools through the F1 in Schools engineering challenge and recently was the first to bring Augmented Reality simulation into technical training, together with Seabery, its partner from Spain.