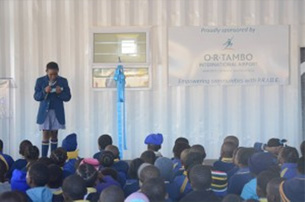 Airports Company South Africa's flagship airport, O.R. Tambo International, today donated two container libraries to primary schools in two South African townships, Phomolong Primary School in Tembisa and Chivirikani Primary School in Katlehong.
"Literacy and numeracy are important contributors in the fight against poverty and inequality. Functional libraries are important resources necessary enabling and enhancing literacy and numeracy outcomes. However, there is a shortage of libraries in South Africa – especially in our public schools. It is estimated that over 90% of public schools in South Africa do not have functional libraries," said Bongiwe Pityi, General Manger of O.R. Tambo International Airport.
The donated libraries come with 900 books and four new laptops each. "This handover is part of our well-structured programme that seeks to empower communities in the vicinity of the Airport," she said. The investment in education supports government's agenda of promoting a culture of learning and teaching. According to the National Development Plan for South Africa, 90% of children in Grade 6 should be able to read, write and count.
Speaking at the hand-over ceremony in Tembisa, Gauteng Education MEC Phanyaza Lesufi applauded O.R.Tambo International Airport for investing in information and knowledge. Mr Lesufi said the Gauteng Education Department was working towards creating an innovative generation that does not rely on government social grants and government-built RDP houses. "This is a generation that must compete globally. They will create jobs and ensure that we prosper," he said.
International research quoted by Equal Education (EE), an education NGO, shows that school libraries are beneficial to the progress and academic development of learners. A stocked, staffed and fully-funded library operating within a school improves students' reading performance by as much as 8%.
Beyond direct academic benefits, libraries also offer social advantages. An EE study in South Africa found that over 50% of learners identified school libraries as places where they would do homework and study for exams.
18 June is a significant date for O.R. Tambo International Airport for three reasons. Firstly, because come two days after the National Youth Day celebration and this is important because the airport supports youth empowerment initiatives. Secondly, the day comes exactly one month before Mandela Day, 18 July, supporting the airport's objective of making everyday a Mandela Day.  Thirdly, the library donation coincides with former President Thabo Mbeki's birthday, a stalwart and champion for literacy and education.
The donation of these two libraries is part of O.R. Tambo International Airport's annual Winter Warmer Campaign. This year the campaign also includes the provision of blankets, shack-fire prevention training, a soup kitchen, and the donation of school shoes for needy learners within the Ekurhuleni Precinct.