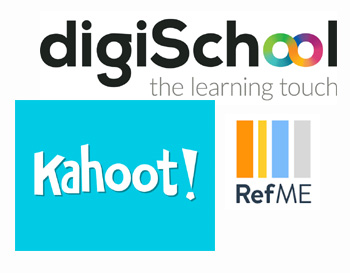 Improved education resource access, gamification and study support platforms represent Europe's most innovative and fastest growing startups to watch in 2015.
EdTech Europe the leading executive level education technology-focused conference platform in Europe, has today confirmed the three winners of its EdTech 20 ranking as digiSchool, Kahoot! and RefME, as well as the 17 finalists who make up the complete 2015 EdTech 20.
digiSchool, based in Paris and Lyon, France, is a global platform providing better access to education via web and mobile through more than 15 educational services including free educational content from more than 70 teachers and 320,000 educational resources and community services to help with homework, courses and presentations. digiSchool musters more than 6.5 million users per month and counts more than 5 million members with 3,500 new memberships per day.
Thierry Debanot, Co-CEO of digiSchool, said of the win: "We are proud to represent the FrenchTech in Europe with this award. Winning EdTech 20 is a beautiful recognition of work done by our teams for many years. Our international development is promising! We aim to become number one in the European e-learning market."
Kahoot!, from Oslo, Norway, is a global game-based platform that enables more meaningful, playful and powerful learning experiences to help learners realise their deepest potential. Operational across more than 180 countries with 40 million unique players, Kahoot! transforms students' most prized possessions – mobiles, tablets, laptops – into their most prized learning companions, using the transformative power of 'play' to unlock the magic of learning.
Kahoot! Co-Founder and Chief Creative Officer Jamie Brooker commented: "Kahoot! focuses on creating impact, we call it 'return on learning'- meaning engaged, motivated students who are self-initiating peer-to-peer learning all around the world. So to be recognised by EdTech Europe for this impact, and the global growth we've seen, is hugely rewarding! We pride ourselves on our European heritage (Norwegian and British), especially with our global user base, and are excited to see such a strong and growing education technology scene in Europe – as highlighted by the quality of EdTech20 awards, which we're humbled to have won."
RefME, from London, UK, is a free tool that automates citations, reference lists and bibliographies in a click. Through innovative products such as a book and journal barcode scanner app, to a browser clipper that makes referencing online a one-click process, RefME automates the referencing process. It knows exactly where students have found information across physical to digital content, leveraging this to 'remove the search from research'. Already the leading citation tool in the UK, it is currently adding 5,000-30,000 new users every day.
RefME CEO Tom Hatton stated: "As a community of startup companies, we truly have the chance to change the world for good. The edTech space is so exciting for so many reasons and I was frankly honoured to accept the award on behalf of RefME."
"Choosing from more than 120 applications from 24 European countries was no easy task, but our three winners impressed judges with their vision for improving and enhancing the learning experience, as well as their capacity for global growth and scale. Indeed, the potential we saw from the entire EdTech 20 was encouraging for future of the European edtech market as a whole, representing combined expected revenue of €40 million," commented Benjamin Vedrenne-Cloquet, Co-Founder of EdTech Europe.
Recognising Europe's top 20 EdTech startups by innovation and growth, inclusion in EdTech 20 is determined by a global panel of judges, evaluating various factors including revenue growth, scale, innovation and market impact.
Entrants had the opportunity to pitch their startup and meet the 600+ global attendees at EdTech Europe, an exclusive one day, multi-track summit bringing together executive level investors, innovators, and industry influencers from European and global education technology companies. Finalists also gain exposure at EdTech Europe's worldwide partner events Slush, SXSWedu, WISE and the QS Reimagine Education Awards, as well as prizes from sponsors such Hootsuite and Prezi.
Entries came from a large range of European territories, with the UK EdTech market experiencing particular success in this year's awards, counting 50 percent of the top 20, including one of the three winners. France and Germany also saw multiple successes, with Scandinavian success coming from Norway and Denmark.
The 17 other finalists and their countries of origin are as follows:
BridgeU, London, UK
CareerFoundry, Berlin, Germany
CodeMonkey Studios, Tel Aviv, Israel
Edukey Education, Pembrokeshire, UK
eSchools Ltd, Newmarket, UK
Filtered, London, UK
Gutenberg Technology, Paris, France
Labster,Copenhagen, Denmark
Lecturio, Leipzig, Germany
Lesson Nine (Babbel.com), Berlin, Germany / New York, USA
MediaCore, London, UK
myBlee Math, Paris France / San Francisco, USA
Proversity, London, UK
SABE Online, Lisbon, Portugal
TeachPitch, London, UK
Tutorfair, London, UK
Zzish, London, UK