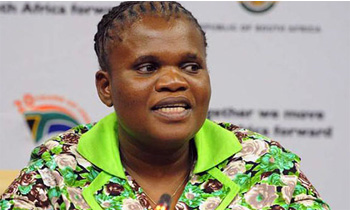 By – Nthambeleni Gabara – SAnews.gov.za
Atlanta – With Nelson Mandela Day around the corner, Communications Minister Faith Muthambi says credit should go to the late President for bringing freedom that created opportunities for the country's arts sector to access the American market.
Minister Muthambi was speaking to SAnews upon her arrival in Atlanta, in the United States of America, on Wednesday, for the annual Lifestyle Show Hub.
"We must be grateful that the love for peace and freedom by our late President opened many opportunities for South Africans across the globe. If it was not his visionary leadership, it was not going to be easy for our artisans and master designers to access the American market," she said.
Minister Muthambi will also visit the International Folk Art Market in Santa Fe on Friday evening, which will run until 12 July at the Milner Plaza on Santa Fe's renowned Museum Hill, New Mexico.
The Minister said both the annual events are the correct platforms to attract more international investors into the South African arts sector.
"There is no other better platform for our artists and designers to access the American and other thriving markets in the world than the Lifestyle Hub Show and the largest International Folk Art Market which this year has attracted more than 150 artists from 57 countries.
"It is a known fact that the South African products are in demand from the American and other international buyers because they like the creativity and innovation of our artists and designers.
"People of the world like South Africa and it is our strong belief that the arts sector might experience a major economic boost as a result of these two annual events. In the spirit of Mandela, our government will not rest until all South Africans enjoy the fruits of our liberation and our democracy," she said.
South Africa will be offering a new portfolio of fresh furniture designed for the Atlanta International Gift & Home Furnishings Market at AmericasMart Atlanta.
Six new lines of uniquely inspired furniture crafted by some of South Africa's master designers which were unveiled earlier this year will once again be on show.
SA's Lifestyle Hub
South Africa's Lifestyle Hub is an initiative of South Africa under management by McGlobal Explorers.
Located in AmericasMart Atlanta, South Africa's Lifestyle Hub represents a collection of the most talented artists and designers throughout South Africa who may otherwise lack access to the American market.
A unique array of furniture, home decor and giftware, all handcrafted from hide, beads, clay, or fine linen grace a showroom built of South African wood, for a truly museum-like experience.
South Africa's Lifestyle Hub canvasses both rural and urban centres throughout South Africa and curates a collection of both established and rising artisans to create a truly inspired offering for American buyers and designers.
Each product tells a story, and each collection represents the growth of small enterprise and rise of high design from the soil of South Africa.
Mandela Day
The Nelson Mandela International Day on 18 July serves as a catalyst for each and every person to change the world through community work. The campaign asks that individuals, groups and corporates pledge 67 minutes of their time and every day thereafter, to continue to give back.
This year's Nelson Mandela International Day will take place under the theme "Donating 67 minutes of our time to help those in need". South Africans on the other hand have embraced the chance to celebrate Nelson Mandela's life for the whole of July.
July is also known as Social Cohesion Month. This campaign encourages South Africans to work together to develop a cohesive society by promoting the ideals of non-racialism, non-sexism, justice and equality for all as envisioned at the start of our democracy.
This year, South Africa marks the second year since the passing of former President Mandela. In November 2009, the UN General Assembly declared 18 July Nelson Mandela International Day in recognition of the former President Nelson Mandela's contribution to the culture of peace and freedom.