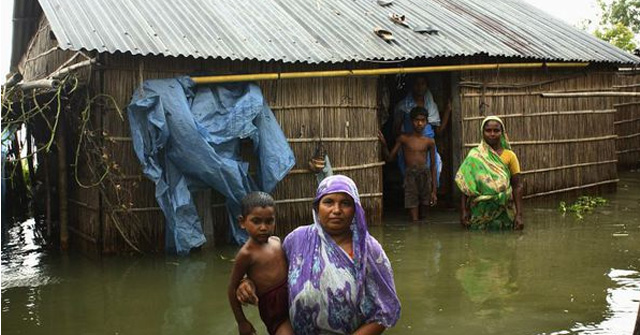 By SciDev.Net – Laura Dowings
The session opened with a video depicting a group of wide-eyed children in a Malawian schoolyard. Crowded around their headmaster, they look on as he details to the camera the devastating effects flooding had on their village.
"It happened because of climate change," he concludes.
These powerful words, delivered to delegates during the World Social Science Forum 2015 in Durban, South Africa, this week, gained much of their potency from being told by those who suffer the disastrous side effects of climate change first-hand.
"The rain comes more unpredictably. It is because of emissions. We know because we hear it on the radio"
Ruth Mwenye, Malawian subsistence farmer
But despite the emotion that filled the room, I couldn't help but ask myself: is there a danger in using such compelling, weather-related stories to highlight climate change?
In January, torrential rains in Malawi caused around 170 deaths, and displaced more than 100,000 in the south of the country. Some of the affected villagers were at the forum to relay their accounts of the disaster in person.
"The rain comes more unpredictably. It is because of emissions. We know because we hear it on the radio," said Ruth Mwenye, a Malawian subsistence farmer, in the video.
But there is danger in inferring that any single extreme weather event was caused solely by climate change. Although they may be compelling and powerful, such statements can undermine the scientific efforts of researchers trying to explain a serious global issue.
This is because such arguments are open to abuse. Climate sceptics often use examples of record-high snowfall as evidence against global warming, while some supporters use every incident of seasonal drought to warn against climate change.
This creates confusion and mistrust: only 33 per cent of those in the United States say climate change is a very serious problem, according to a public opinion poll by Pew Research Center and the American Association for the Advancement of Science.
We must exercise caution in pointing to extreme weather events as examples of climate change. Weather-related risks and climate change are two different things. With COP 21, the next UN climate conference, taking place in December, it is vital for our understanding of climate science to not mix the two up.
This is important to truly understand the plight of developing countries, who suffer disproportionately from both climate change and extreme weather. "Extreme weather has a negative impact on a marginalised segment of society, while the social impact of climate change is ignored," said Blessings Chinsinga from the Centre for Social Research at the University of Malawi during the forum session.
And while climate change does not directly cause every extreme weather event, it may certainly make existing events worse. A better distinction between the two could help developing countries comprehend what they are facing, and get prepared.