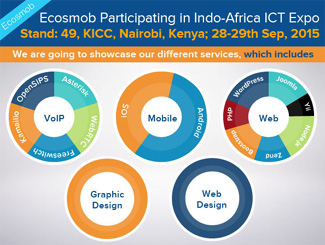 Ecosmob Technologies is one of the leading mobile application development companies from India. The company offers mobile app development services for custom client requirements. The company has been offering these services in two different mobile app development platforms, namely, Android and iOS. Recently, the company participated in the Indo Africa ICT Expo 2015 as one of the exhibitors. The company showcased different services, solutions and products during the expo. One of the most appreciated and in demand services of the company was Android Application Development.
The smartphones are increasing and so does the craze of different mobile devices. The different businesses are moving toward the mobile applications to reach the smartphone users. The Kenya and other African countries are not behind. The representatives of Ecosmob Technologies received great response for mobile application development services offered by the company. Android is one of the most widely used application in the Africa. Thus, the visitors and prospects were more interested in the Android Application Development.
"The experience as the exhibitor in the Indo Africa ICT Expo was really good. We learned many new things as well as shared our experience and knowledge with the visitors and delegates. If we talk about mobile application development, Africa is a developing country. Thus, mobile application development is in the rising stage. The Android app development is in very good demand.", said the representative of the company.
As per the further announcement made by the company's representative, there were many visitors who shown keen interest in the custom Android app development for their customer centric services. Some of them had also discussed about B2B Android app development requirement. The representatives of the company shared further, "Android has many benefits such as a wider user base, available API, larger community support and more. We educated our visitors and prospects about these benefits of Android and we were glad to see people were showing very good interest in it. The visitors were from different industries such as Banks, Schools and Universities, Insurance companies, IT Companies, Telecom companies and more. They discussed their business model with us and we shared how mobile applications can suit their business needs. When we got more information of their targeted audience, we suggested the most suitable mobile app platform. As per our experience, in the majority of cases, Android was the most suitable app development platform."