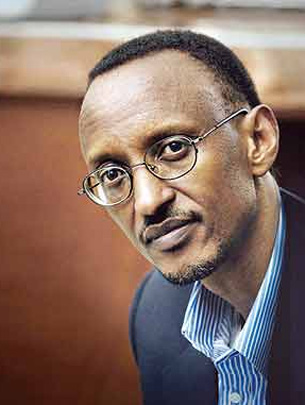 MOU signing between Gugosi Resources and Antilop Capital, Ivory Coast.
The Africa Global Business Forum afternoon sessions commenced with the session titled 'Next Steps – Cementing Gains and Enabling the Future', which focused on what government leaders in Africa can do to facilitate long term growth and how they can ensure long term financing for these strategies.
Speaking at the session, H.E. Paul Kagame, President of the Republic of Rwanda, said that when it comes to foreign investment in Rwanda, the fundamentals are in place, such as political stability, structural reform, macro-economic stability, increasing capacity and skills of people. Looking at the demographic trends that exist, we also see continued urbanisation, and all these elements set the stage for economic growth.
He added that the country is moving toward regional integration, and this necessitates continued investment in infrastructure. To set up the right environment, there is a need to focus on private investments, supported by the public sector, and work is already underway in this. For example, Rwanda looked at Roaming Charges for people in our sub region, and realised the need to integrate our network, ensuring everyone benefits.
It is as simple as building on what already exists to bring down the barriers and continue to invest in areas such as ICT and sectors that are not affected by Rwanda's geographical position, he concluded.
H.E. Hassan Sheikh Mohamud, President, Republic of Somalia, commented that Somalia is starting from scratch and faces tremendous challenges, but in the last three years it has seen robust institutions being established, with more to follow.
He also added that all the necessary institutions are now in place to transform the economy, such as a functioning central bank, financial governance bodies to oversee elements such as procurement, dispensation of government, and investment to grow money laundering regulation.
The country has achieved so much but also has a long way to go. There are specific factors that put Somalia in a good situation, but it takes significantly more than a decade to restore a country in a post conflict environment. At the moment it is building an environment that enables FDI, with many Somalis now returning from the diaspora. Somalia previously had only USD50mn domestic revenue per annum, and now sees more than USD140mn, as the population are coming forward to contribute to tax, as a key indicator of the increasing level of trust in the development of the country.
He concluded that the country has started to see a reversal of the brain drain that resulted from the Somalian diaspora. Qualified individuals are now returning and, with 70% of the population under 30, the country now needs to provide opportunities for this dynamic young population.
H.E. Mohammad Al Shaibani, Executive Director & Chief Executive Officer, Investment Corporation of Dubai , commented that in terms of investment, Africa is very important to Dubai and is a great partner. Dubai is always looking for opportunities and synergies, with three key entities demonstrating this: DP World, Dnata and Emirates Airlines.
He added that Dubai looks at sectors where the Emirate already has expertise, for instance, in Rwanda, Investment Corporation of Dubai is looking at an investment in hospitality. Logistics is another area of expertise and synergy.
He continued that in order to achieve successful ventures, investors must look at Africa in the long term, remembering that Africa is one continent, but also exploring the unique opportunities, laws and structures of each individual country.
He concluded that based on Dubai's experience, when the Emirate looked at change more than 30 years ago, with regulation not yet established, free zones emerged as important tools to keep up with the rapid change in the business environment.
The session titled 'Pan-African Business – Becoming a Reality' discussed the stepping stones to a pan-African free trade zone.
H.E. Richard Sezibera, Secretary General, East African Community, said that one of the strategic imperatives is to form one effective market. There are various regional blocs in the continent but the central idea of the Tripartite Free Trade Agreement was to comprise a market of 26 countries, 152 million Africans, and markets that comprise 58% of Africa's total GDP.
Hon. Aston Kajara, State Minister of Finance for Privatisation, Uganda, commented that Africa has a population of over 1.3bn, so accessing that market is a highly effective business advantage. Africa should not only be thinking about investments from China and Europe, but also attracting FDI from within Africa and its neighbours.
The event also witnessed the signing of an MOU between Gugosi Resources (M.E.) DWC LLC, based in the UAE, and Antilop Capital, Ivory Coast, to provide technical assistance to Coco Veda's natural coconut oil products. The two signing parties started negotiations during AGBF 2014 and concluded their MOU at AGBF this year.
Africa Global Business Forum is held under the theme 'New Drivers, New Partners' and coincides with the 50th anniversary of the Dubai Chamber.