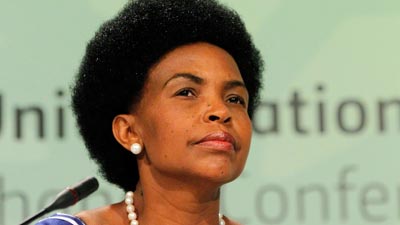 By – SAnews.gov.za
Pretoria – South Africa and the Netherlands have signed a Memorandum of Understanding (MOU) on the establishment of a Joint Commission for Cooperation (JCC) that will provide structure to the strong historical relations that exist between the two nations.
"The MOU covers all areas of cooperation such as water management, energy, logistics, maritime skills development, education, science and technology, arts and culture, and trade, among others," the Department of International Relations and Cooperation said on Thursday.
The MoU was signed by Minister Maite Nkoana-Mashabane and her counterpart, Bert Koenders, at The Hague.
The Ministers also discussed bilateral, regional and multilateral issues of mutual concern.
Minister Nkoana-Mashabane was in the Netherlands for the 14th Session of the Assembly of States Parties (ASP) of the International Criminal Court (ICC). The Assembly of States Parties is the management oversight and legislative body of the ICC.
The Minister delivered South Africa's opening statement during the General Debate of the Assembly of States Parties on Thursday.
She used her speech to outline the legal and political challenges faced by a country like South Africa that is engaged in peace efforts throughout the continent, while also trying to balance its legal and political obligations and duties in accordance with Articles 97, 98 and 27 of the Rome Statute of the ICC.
"As a State Party to the Rome Statute, we want to make sure that the ICC lives up to the purposes it was created for. This is our court and we have a responsibility to interrogate whether this institution is still reflective of the principles and values which guided its creation," said the Minister.
South Africa requested that the Assembly of States Parties deliberate on these challenges in order to reach an understanding.
The Assembly of States Parties will consider this question today.
Justice and Correctional Services Minister Michael Masutha will lead the South African delegation to this meeting.
While in The Hague, Minister Nkoana-Mashabane also held meetings with organs of the court and other dignitaries on various aspects relating to the ICC. They included the President of the ICC Judge Silvia Fernandez and the Prosecutor of the ICC Fatou Bensouda, among others.
Minister Nkoana-Mashabane also met with the Organisation on the Prohibition of Chemical Weapons (OPCW) Director General, Ambassador Ahmet Üzümcü at the OPCW headquarters in The Hague.
The Director General praised South Africa's contribution to the implementation of the Chemical Weapons Convention, noting in particular the strong support of South Africa to the OPCW's Africa programme.