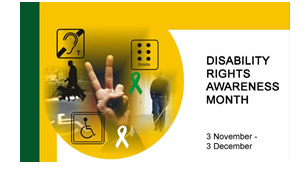 By Gabi Khumalo – SAnews.gov.za
Every morning, Bele Netshiheni would wake up with a smile, looking foward to playing with and sharing stories with her learners in one of the primary schools in Thohoyandou, where she worked as a teacher.
On weekends, she would go out with her friends and spend quality time with her two children. Everything seemed normal.
But one morning in 2013, Netshiheni's whole world changed when she woke and couldn't see a thing. She had lost her eye sight. Her life would not be the same again. After seeking medical attention, it was discovered that she had diabetes, which was also the cause for her blindness.
Everything came as a shock because she had always considered herself a healthy person. Netshiheni also did not have any symptoms to make her think that something was wrong with her.
With November being National Disability Rights Awareness Month in South Africa, Netshiheni is one of many people who live with a disability and its accompanying challenges.
But the 46-year-old speaks frankly about her condition. She admits that at first, it was difficult as she felt she could not cope.
Netshiheni doesn't blame anyone for her disability and acknowledges that her blindness could have been avoided had she done regular check-ups as this would have been detected sooner.
"If I took that step of checking my eyes, blood sugar level, maybe I wouldn't have lost my eyesight. I've since learnt how important it is for a person to go for a full check-up, annually."
Like many people who live with disability, Netshiheni feels that people who were once close to her have abandoned her. Often, she feels that people now treat her differently. She also struggles to find employment as many companies do not cater for visually impaired people.
"In times like this, you lose friends and no longer do things the way you used to. You have to learn to adapt to your disability.
"Fortunately I have the support from my two kids. I was with them on the morning when it happened and it has been very difficult for them to adjust but they have accepted it and they've been very supportive throughout this journey."
After the unexpected lost sight, Netshiheni has learnt that, disability can happen to anyone. She stresses the importance of treating people with disability with respect and as equal human beings.
Despite losing hope after the incident, Netshiheni refused to allow her blindness to determine her future. One year after the incident, she reclaimed her life and went out to face the world, as a blind person.
"I decided it was time to rebuild my life and while doing that, I also wanted to assist other people with the same disability."
Last year, she applied for enrolment at Optima College for the Blind in Baileys Muckleneuk, Pretoria. She was accepted and joined the institution this year, where she is currently learning Braille Literacy, which is specifically caters for newly blinded person. There are only two learners in her class.
It's is an intensive training, where learners are introduced to braille and reading techniques. They also develop a sense of touch and hand movement.
Optima College offers state-of-the art facilities for development opportunities, training and support to visually impaired persons to help them develop relevant independence and work related skills that enable them to maximise their potential and to function as independently as possible.
It is one of the few colleges in Southern Africa that caters exclusively for blind and partially sighted persons.
Among the academic programmes offered by the college include Introduction to Computers and Braille Literacy.
The colleges also offer National certificates in IT End User Computing, Contact Centre and Support, as well as Business Administration.
After completing the training, which has five modules, Netshiheni says she's planning to go back to her community and start an organisation, which will focus on training visually impaired people.
"I miss teaching but I'm still going to continue with my passion for teaching by sharing skills with other visually impaired people. The training will include cooking, catering, baking and computer training."
The Disability Rights Awareness campaign aims to accelerate equal access to socio-economic opportunities for persons with disabilities by making information available and accessible.
Government works in partnership with various role players to put in place measures to realise universal human rights for people with disabilities and facilitate their socio-economic inclusion.
Government is in the process of finalising the White Paper on the Rights of Persons with Disabilities shows government's commitment to ensure that all persons with disabilities enjoy equal human and socio-economic rights.
Since 1994, representation of people with disabilities has increased in various decision-making positions. The country has a number of judges and magistrates with disability, while Parliament has more than 40 members with disability.
Persons with disabilities also have access to subsidised public transport in the main centres, while a universal design for the Bus Rapid Transit programmes ensures that busses are user friendly for commuters with disabilities.