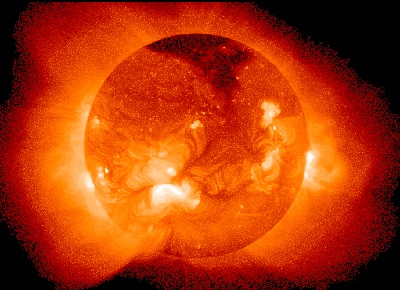 Seventy percent of the population of sub-Saharan Africa lives "off the grid", with no easy access to electricity. Without a reliable power grid, individuals and families rely on kerosene, candles and batteries to shed light on their studies and all other daily activities. Here, in addition to struggling with inadequate power supplies, over 600 million people are unable to access the benefits of current technology and are therefore held back from participating in the growth of the digital economy.
A Nairobi, Kenya-based company, M-Kopa, is helping to solve this problem by merging the power of solar technology with the convenience of mobile phone payments. The word "Kopa" is Swahili for 'borrow,' and this is the first step for those who sign up for electrical service. The M-Kopa startup kit is provided for a deposit of $35, and the equipment is gradually paid off until it is owned by the customer. The cost is paid in daily increments of about 45 cents, less than the daily cost of using kerosene for light. So far, M-Kopa has sold 300,000 units in Kenya, Tanzania, Uganda and Ghana.
M-Kopa was founded in 2011 by three telecommunication colleagues, Nick Hughes, Chad Larson, and Jesse Moore, with the goal of providing clean power to the 1.3 billion individuals still left in the dark worldwide. Making it possible for customers to pay through their cell phones each day has helped many people connect with a feasible energy financing option for the first time. In January, the company announced that their latest funding initiative had raised over $19 million USD – they now hope to service one million homes by the end of 2017.
M-Kopa starter kits include a control box and solar panel, three lights (one of which doubles as a portable flashlight), a rechargeable radio, and a phone charger with five standard connections. After one year of payments, the equipment is owned by the user. It is also under warranty for the first two years. Even better, once the system is paid off, owners have the opportunity to remortgage the equipment and buy useful electronic products such as TV's and energy-efficient appliances.
The company has now rolled out the third generation of equipment with a larger solar panel that gives 60 percent more charging power. The customer base continues to grow – with a 95 percent repayment rate – adding an average of 500 new homes each day. Most sub-Saharan Africans live on around $2 a day and, until they had access to solar power, a quarter of that was often spent on polluting, non-renewable fossil fuels.
After M-Kopa's latest round of financing and the passage of the "Electrify Africa Act", a new law building on President Obama's "Power Africa Initiative", the future for many rural communities throughout the continent is brightening. Sub-Saharan Africa is the perfect testing ground for mobile-led, consumer-controlled energy infrastructure, a much more flexible model than currently exists in the West.
According to Just Energy, today thirteen percent of overall energy production in the U.S. comes from "renewable" energy sources. Renewables comprise approximately five percent of Africa's overall energy production, but some estimates indicate that that the percentage of energy generated by solar power and other clean sources has the capacity to quadruple in Africa by 2030. If M-Kopa succeeds in selling one million active units by the end of next year, it will go a long way toward achieving that goal.