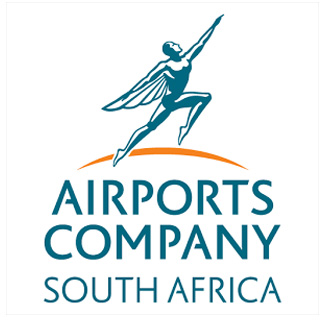 Airports Company South Africa has today launched its first 200 square meter solar power plant at George Airport in the Western Cape, further demonstrating its commitment to clean energy generation and sustainability. George Airport is Africa's first, and currently the only regional airport in South Africa, to be powered through solar energy.
The Solar plant is located on the grounds of George Airport. Building thereof commenced in March 2016 and took six months to complete at a cost of R16 million.The first phase, which is now complete, will supply 41% of the airport's current energy demand, while the balance will be drawn from the national grid with supply capacity steadily being increased as per demand factors. The plant is designed to deliver 750Kw power to the airport once complete.
Through photovoltaic (PV) technology, solar radiation is converted into electricity. The technology effectively generates electricity from solar radiation. The use of renewable energy is in line with the Airports Company South Africa's sustainability goals. The development of the plant is also aligned with the company's aspirations to reduce its reliance on the national power grid.
Speaking at the opening ceremony of the plant, Skhumbuzo Macozoma, Chairman of the Airports Company South Africa Board said the company will introduce an energy mix into all its airports and its long term vision, from 2025 -2030, is to achieve carbon neutrality in energy consumption and run Green Airports in order to achieve a Green Building Council of South Africa 6 star rating.
"As an airports management company running nine airports nationally, part of our strategic objective is to minimise our environmental impact. There are a number of key drivers Airports Company South Africa needs to manage to reach this objective and these include reducing energy consumption, water consumption, percentage of waste recycled, noise levels and energy efficient materials usage, amongst others.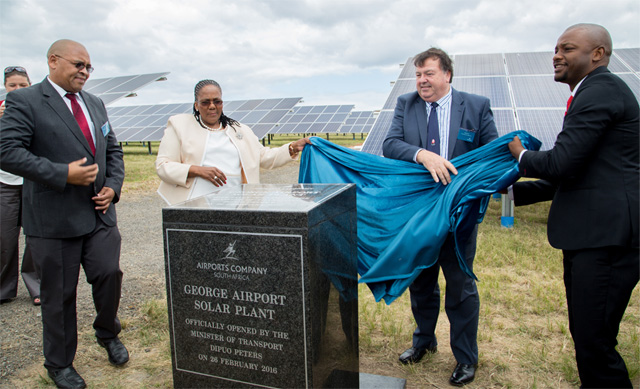 "Harnessing solar power is a viable cleaner energy source which contributes towards diversifying the energy mix. This plant will ensure that the airport is self-sustaining in terms of its power needs and will eventually extend to the broader community within the George municipality."
Airports Company South Africa chief executive officer, Mr. Bongani Maseko said: "The interconnection between us and the external environment is the core of our value creation. We are always on the lookout for opportunities to develop cleaner energy sources that also aid us in our cost-cutting efforts as well as lessen the pressure of power demand on the national grid."
The opening ceremony was attended and officiated by the Minister of Transport, Dipuo Peters, the MEC of Transport in the Western Cape, Mr. Donald Grant, The Executive Mayor of George Municipality, Cllr Charles Staner, and other national and provincial dignitaries.