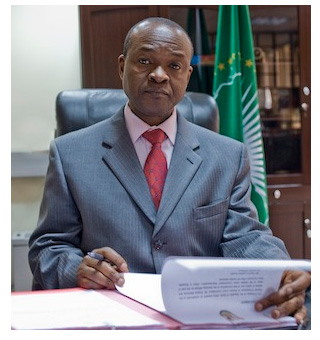 The African Union Commission through its Management and Information System (MIS) Unit on 5 April 2016 inaugurated the New IT Data Centre at its headquarters.
During the launching ceremony, the Deputy Chairperson of the African Union Commission, H.E Mr. Erastus Mwencha thanked the attendees for coming to witness the opening of this landmark development at the AU Commission.
He further called upon the Management Information System (MIS) team to continue to work hard to update the internal information system of the AU because ICT is an important sector that needs to constantly be updated to meet global standards. He encouraged MIS to work in close collaboration with the Department of Infrastructure and Energy as well as the Department of Human Resources Science and Technology of the AUC in order to achieve the best results.
[Description: IMG_0253] The Director for Administration and Human Resource Management of the AUC, Mr. Amine Idriss Adoum in his remarks stated that this important launch of the new IT data center would be very useful for the African Union as this new equipment is able to host all websites, servers and data in a new model. He added that it will enable the AU staff, to be provided with standardized computers, software and tools to facilitate their work.
Mr. Tatek Shewandagne, VSAT and Network Administrator, speaking at the ceremony said that the AU data centre project started a few years ago to address the ever increasing demand of a hosting service for the business of the organization.
He added that MIS used to serve not more than 400 users in the past but now has grown to have more than 2500 users in over 30 regional offices, with the addition of automated services, like the SAP.
The new AU new data centre which is based on international standards, will now provide efficient use of resources, Green IT that saves over 40 % of power compared to the traditional types, centralized management that gives clear visibility of the system for proactive support, scalable solutions to host future demands of the organization and the Organs of the AU, and more space to end users to save data and hence, retain information for the organization.