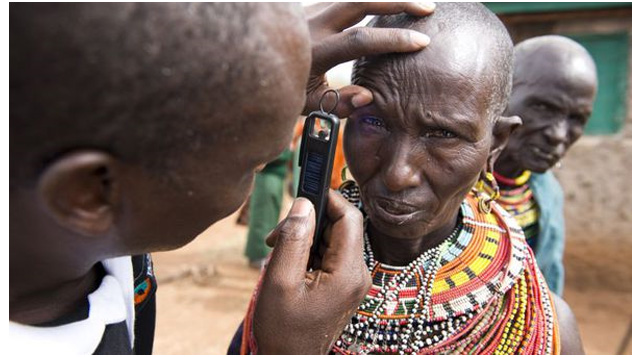 By Inga Vesper – SciDev.Net
A simple eye examining device that may offer a cheap way to improve medical care and training in developing countries has been successfully tested in Africa and Pacific island states.
The Arclight is a pocket-sized ophthalmoscope — a medical instrument used to see inside patients' eyes — equipped with an LED to provide light, a magnifying lens and a rechargeable battery.
"In developing countries, health budgets are too small to accommodate the high costs of diagnostic instruments… We are doing what we can to bring the costs down."
Richard Le Mesurier, Fred Hollows Foundation
The device, which costs around US$8, can help health workers detect eye diseases such as trachoma and glaucoma, as well as foreign objects in the eye, say its developers at NGO the Fred Hollows Foundation in Australia.
It can also be used in training for eye doctors and clinicians in developing countries and is small enough to be carried in a pocket or clipped to a lanyard, according to Richard Le Mesurier, the foundation's medical director.
In developing countries, "health budgets are too small to accommodate the high costs of diagnostic instruments designed and produced for the well-resourced richer countries", Le Mesurier says. "We are doing what we can to bring the costs down to something much more affordable while maintaining quality."
The device has been tested in Australia, Ethiopia, Fiji, Kenya, Tanzania, Malawi, Rwanda and the Solomon Islands. It has an inbuilt solar charger to enable users to recharge its battery in areas off the electricity grid.
This is important as conventional ophthalmoscopes break easily and frequently run out of battery, disrupting health services and discouraging sick people from attending clinics, says Gillian Cochrane, an optometrist at Australia's Deakin University.
Ciku Mathenge, the director of training at Dr Argawal's Eye Hospital in Rwanda, was involved in testing the device. She says that providing ophthalmoscopes to students is crucial to improve eye healthcare in resource-poor settings.
"When I started my training, all I wanted was to afford my own ophthalmoscope, but I couldn't," she tells SciDev.Net. With cheaper devices on the market, "each and every student in my class, no matter what their background, can have an ophthalmoscope from the first day of their training without relying on donor funding".
But Cochrane sounds a note of caution, saying that, as well as better diagnosis, patients in poor countries also need access to specialists.
"Referral pathways need to be established to ensure that when an eye problem presents, the patient can be sent to the appropriate eye care practitioner," she says.
The current version of Arclight comes with an otoscope attachment that allows it to be used for ear examinations.
The inventors plan to release an updated version of the device this year, which will include an inbuilt memory stick with training materials for student optometrists.