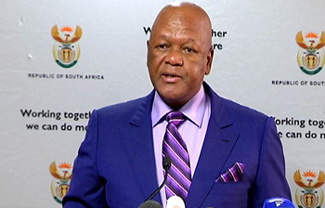 By – SAnews.gov.za
Pretoria – Minister in the Presidency: Planning, Monitoring and Evaluation and Chairperson of the National Planning Commission, Jeff Radebe, led a packed session at the WEF, which considered the question of an integrated Africa and the African Union's commitment to introducing an African passport by 2018.
"Global leaders and Public Sector opinion makers considered what it will take to realize and deliver on this agenda?" according to the Department of Planning, Monitoring and Evaluation in the Presidency.
On Thursday, the session at the World Economic Forum, in Kigali, Rwanda, considered three broad dimensions which included enhancing the open skies agreements, employing visa facilitation and regional visa agreements as well as integrating and harmonizing capital markets.
Some notable participants were Raphael Kuuchi, vice-President, Africa, International Air Transport Association (IATA), James Mwangi, Group Managing Director and Chief Executive Officer, Equity Bank, Kenya and the ever engaging Pascal Lamy, former Director General of the World Trade Organisation.
Minister Radebe referred to the stellar growth in Africa's appeal as an 'economic powerhouse. However, he went on to note that, as widely recognised, for the continent to realise its true potential, it has to place a greater priority on enabling and facilitating global trade and investments.
"One of the pivotal objectives of such enablement must be to ensure effective commercial air services in and across Africa," the department said in a statement.
A startling fact that Minister Radebe shared was that while Africa is home to 12% of the world's population, it still accounts for less than 1% of the global air services market!
As such, he opined that the continued restriction of air services over many African countries was one of the critical contributing factors to Africa's potential inability to arrest its fair share of global air traffic trade.
Visa policies
Minister Radebe also shared his perspectives on the visa policies and regimes, which he noted, was amongst the most important government mechanisms that influence global tourism.
Another interesting fact shared was that the rapid acceleration and growth of global tourism over the past 50 years has resulted in a dynamic evolution, generally, in the quality, reliability, and efficacy of visas.
This progress, he further noted, has been made through effective visa facilitation mechanisms, which contributed to the remarkable and exponential growth of the tourism sector.
Minister Radebe implored participants, to loud applause, to reflect on the continued need for visas in Africa – an aspiration duly noted in Agenda 2063. But-the clock was ticking as there were two years to go to 2018, he warned.
Integration of regional capital markets
Minister Radebe concluded by commenting on the integration and harmonisation of regional capital markets in Africa.
He noted that this in essence refers to great efforts to broaden and deepen financial linkages within the region, whether through market-driven or institutionalised processes.
He noted further that integration requires the elimination of cumbersome barriers, particularly with regard to various cross-border investments; the differential treatment of foreign investors and investments within regions, which he noted must also extend to harmonising legislative, policy and institutional frameworks which can lead to national financial markets effectively functioning as one on the continent.
Minister Radebe further reminded participants: integrating Africa and implementing Agenda 2063, the continental master plan and compass, was not about those in the room, neither was it about the short term-it was, in his words "About the youth, the women, the children and ensuring they all get the Africa they want, the Africa they desire and the Africa that they deserve".