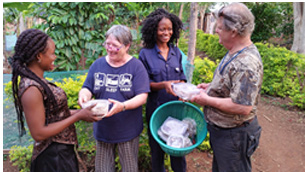 Volunteering with USAID agency's ACDI/VOCA Farmer-to-Farmer Program, Lost Creek Mushroom Farm owners Douglass and Dr. Sandra Williams traveled to Ghana, West Africa, to work with mushroom farmers at Bemcom Youth Enterprises Association, in collaboration with the Williams' Mushrooms in Ghana Project.
Under the auspices of USAID agency's ACDI/VOCA Farmer-to-Farmer Program, Douglass and Dr. Sandra Williams of Lost Creek Mushroom Farm volunteered as mushroom experts in Ghana, West Africa. They trained mushroom farmers, set up a shiitake mushroom log production research project, and pursued plans for a spawn (mushroom seed material) laboratory at Bemcom Youth Enterprises Association. Non-profit Bemcom is an alternative agriculture training and resource center in Techiman, Brong Ahafo Region. Director and founder Bernard Bempah trains small-scale Ghanaian farmers to raise livestock and bees and to grow oyster mushrooms. 2016 marks the Williams' third trip to work with Bemcom's mushroom farmers and staff.
Having established themselves successfully in business selling Shiitake Mushroom Log Kits (Top Seller on Amazon.com), the Williams' gladly answered a call to serve in Ghana as volunteer mushroom consultants in 2007. In 2008 they started Mushrooms in Ghana Project(MIG), donating a portion of Lost Creek Mushroom Farm sales. MIG has supplied teaching and training equipment, spawn and mushroom production equipment, laboratory supplies and equipment, and brought Bemcom personnel to the US for training. MIG funding contributed to the success of the Williams' programs as ACDI/VOCA volunteers.
"Dr. Sandra" taught the farmers improved practices for processing, packaging, marketing and business. Bempah, Chef Ralph Kumatis and Dr. Sandra produced Ghana's first "Oyster Mushroom Recipes" cookbook. Supported by ACDI/VOCA and MIG, a major public event launched the cookbook and projected good business outcomes for Ghana's mushroom industry.
Currently Ghana's farmers grow only oyster mushrooms (Pleurotus ostreatus), which have a short shelf life. Bempah wanted to learn to grow shiitakes on logs because of their sturdiness and stability, nutritional and health benefits, flavor and worldwide popularity. He requested a volunteer through ACDI/VOCA to introduce shiitake log production so Ghana's farmers could diversify their crops.
Since 2007 Douglass Williams has researched prolific native tree species in Bemcom's region that might support shiitakes. On this assignment he and the Bemcom staff established Phase 2 of a shiitake log research project with 10 tree species. He taught student interns and the staff log maintenance and care, including managing shiitake pests and diseases.
Ghana has only one registered, fully equipped spawn manufacturer to provide the seed material for the country's more than 12,000 farmers. Consumer interest is growing rapidly and oyster mushrooms are selling well. Farmers are having a hard time raising enough mushrooms to meet customers' demands because of the spawn shortage.
"The farmers are frustrated. They could grow and sell more mushrooms if they had enough spawn. The industry is expanding and the spawn shortage has become critical. Mushroom farmers can raise their standards of living from a dollar a day to $10 a day and more."
SPAWN LABORATORY: After nine years of discussions, plans, purchasing and fundraising, Bempah and the Williams' completed their design for the Bemcom-Williams West African Mushroom Spawn Laboratory, to be financed in part by Mushrooms in Ghana Project and estimated at $100,000.
ACDI/VOCA has supported training programs and projects to improve Bemcom farmers' technical knowledge, skills, production, and business practices. "We are blessed, fortunate, and proud to be serving this program," Dr. Sandra said, "The Ghanaian people are friendly, helpful, hard-working, generous, and kind. ACDI/VOCA deserves respect and support for their work to empower individuals and expand global economies."