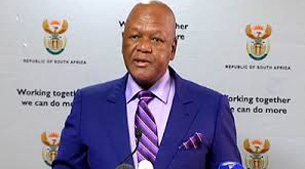 By– SAnews.gov.za
Pretoria – Minister in the Presidency for Planning, Monitoring and Evaluation Jeff Radebe says plans are well in place for South Africa to host a successful 2016 International AIDS Conference.
This is the second time South Africa hosts the conference, with international AIDS experts having descended on the country in 2000. Over 18 000 people are expected to attend the conference, which will run from 18 – 22 July in Durban. The start of the conference coincides with Nelson Mandela International Day, which is a fitting tribute to the late South African statesman, who dedicated a great deal of his time dealing with issues surrounding HIV and AIDS.
Minister Radebe, who is the chair of the Inter-Ministerial Committee (IMC) set up to organise the conference, on Sunday said he was confident the host city would deliver a safe and productive conference. The conference will be held at Inkosi Albert Luthuli International Convention Centre (ICC).
The National Joint Operational and Intelligence Structure (NatJOINTS) – comprising various government departments – has put in place plans which include high visibility of security forces, as well as air support for rapid response in the unlikely event that such a demand may arise.
The plan, police spokesperson Brigadier Vishnu Naidoo said, is designed to be executed in three phases: pre-conference phase, conference phase and post-conference phase to cater for the arrival of delegates as well as their departure after the conference.
The plan will primarily focus on border, route, city and venue security as well as crowd management.
About AIDS 2016
The conference will have more than 500 sessions, workshops and programme activities. Over 1 000 journalists, who represent 180 countries, are expected to cover the conference.
Among the many planned parallel events to support the AIDS 2016 Conference are the Pre-TB Conference Fun Walk, South African Grandmothers' Gathering and Keep the Promise Awareness March.
Only accredited people and vehicles will be allowed within restricted areas, while traffic disruptions can be expected around the conference venues.
"Motorists are advised that all four streets enclosing the conference venue will either be closed or the flow of traffic restricted for the duration of the conference," said Naidoo.
South Africa is well known for its ability to successfully host major international events such as the 2010 FIFA World Cup, Commonwealth Heads of Government Summit, COP17 Conference and the BRICS Summit.
Naidoo said security forces have drawn invaluable experience from hosting these events and that experience will be used to sharpen their ability to secure the AIDS Conference.
"Despite this experience and proven track record, we will not relax our guard. We continuously strive to improve and raise the bar further on our record of hosting such events," Naidoo said.