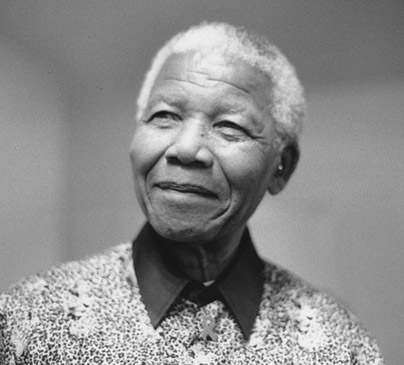 July 18 every year was declared by the UN General Assembly in November 2009, as the 'Nelson Mandela International Day' in recognition of his contribution to the culture of peace and freedom.
"I dream of an Africa which is in peace with itself" – Nelson Mandela
"It is better to lead from behind and to put others in front, especially when you celebrate victory when nice things occur. You take the front line when there is danger. Then people will appreciate your leadership" – Nelson Mandela
The above two quotations by Nelson Mandela captured the mood and the focus of the symposium, film screening and photo exhibitions organised by the United Nations Information Centre (UNIC) Lagos; the Nigerian Institute of International Affairs (NIIA); the South African Consulate General, Lagos and the United Nations Association of Nigeria (UNAN) as part of activities marking the 2016 Nelson Mandela International Day in Nigeria.
July 18 every year was declared by the UN General Assembly in November 2009, as the 'Nelson Mandela International Day' in recognition of his contribution to the culture of peace and freedom. Whilst the General Assembly (UNGA) resolution of 2009 recognizes Nelson Mandela's values and his dedication to the service of humanity; the UNGA resolution of 2015 on the Nelson Mandela Rules extends the scope of Nelson Mandela International Day to also promote humane conditions of imprisonment, to raise awareness about prisoners being a continuous part of society and to value the work of prison staff as a social service of particular importance. No doubt, the Day provides an opportunity to reflect on the life and work of a legend who embodied the highest values of the United Nations.
As over 150 participants comprising of representatives of NGOs, media organisations as well as university and high school students were conducted around the exhibitions; and as they were also later treated to very instructive presentations during the symposium, they took some good lessons on Mandela's leadership. The unwavering commitment of Mandela to his promise to serve for a single term as the South African president was flagged as a leadership lesson for African leaders. Similarly, his decision to forgive and reconcile with his jailers even when he became the President was noted as a major step responsible for a stable and peaceful post-apartheid South Africa.
I dream of an Africa which is in peace with itself.
The photo exhibition titled, 'Life and Times of Nelson Mandela' and held at the front lobby of the NIIA, Victoria Island Lagos, was curated by one of its Deputy Directors, Mrs Pamela Mamah. Over 60 exhibits of photographs and newspaper cuttings were on display. The exhibition, declared open by the Consul General of the South African Consulate General, Lagos, Mr Darkey Africa, touched on his early childhood, the period of the struggle, his incarceration, his release from the prison and his ascendancy to the presidency of South Africa. Similarly, two short films were screened to the admiration of the audience. They were 'Nelson Mandela's Life Story' and 'Nelson Mandela: Carrying On His Legacy'.
The symposium chaired by a former Ambassador of Nigeria to Ethiopia, Ambassador Olusegun Akinsanya, featured four key presentations: International Terrorism and Maintenance of Global Peace by Prof Charles Dokubo; Nelson Mandela as a 'Great Personality of Peace': Lessons in Leadership for Global Peace and Security by Mr Sunday Olubejide; Awareness and Prevention of HIV/ AIDS: The Role of International Personalities by Dr Chinwe Nwanna as well as presentations on 'Students and Maintenance of International Peace and Security by a student each from Leads University, Ibadan Oyo State, Lagos State University, and the University of Lagos.
In his presentation, Professor Dokubo of NIIA advocated for a stronger cooperation between the international community especially the United States, and the African Union (AU) to hone a national or bilateral counter-terrorism strategy that offers comprehensive solution to tackle contemporary terrorism.
Mr Olubejide also of NIIA, noted in his presentation that Mandela was supposed to be released in 1985, but he refused because the terms and conditions of such freedom was to cage his liberation struggle and never to return to the African National Congress (ANC), and therefore released a statement through his daughter, Zindi saying, 'What freedom am I being offered while the organization of the people remained banned? Only free men can negotiate. A prisoner can never enter into contracts.'
Presenting a paper on "Awareness and Prevention of HIV/AIDS", Dr Chinwe Nwanna of the Department of Sociology, University of Lagos acknowledged the significant contribution of Nelson Mandela to the fight against HIV/ AIDS. At the international AIDS conference in July 2000, according to Dr Nwanna, he issued a passionate and powerful demand asking the world to get on with the use of tools such as information, life skills, abstinence, safe sex and condoms which have been proven to save lives.
Earlier, the UN Secretary-General Ban Ki-moon in his message on the occasion of the Nelson Mandela International Day, remembered Nelson Mandela as a man of quiet dignity and towering achievement who worked tirelessly for peace and human dignity. The message was delivered by the Director of UNIC Lagos, Mr Ronald Kayanja.