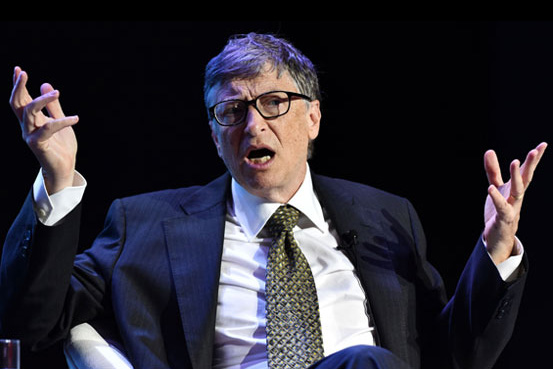 By– SAnews.gov.za
Durban – US billionaire Bill Gates, one of the leading funders of HIV prevention programmes, has singled out South Africa as a model of the African continent in the fight against the spread of HIV/AIDS.
He has urged the country to continue to do more to curb the pandemic.
Gates said South Africa was doing its best to promote prevention of HIV messages and said the country has great campaigns to raise awareness about the virus.
"We have to make testing more accessible and South Africa is leading by example in this," Gates said.
He was speaking during a session titled 'Accelerating the decline of the Burden and incidence of HIV in sub-Saharan Africa' at the 21st International Aids Conference underway in Durban.
Sub-Saharan Africa has the most serious HIV and AIDS epidemic in the world. According to the World Health Organisation, in 2013, an estimated 24.7 million people were living with HIV, accounting for 71% of the global total. In the same year, there were an estimated 1.5 million new HIV infections and 1.1 million AIDS-related deaths in the region.
The Bill & Melinda Gates Foundation is the leading philanthropic funder of international HIV efforts. In 2013, the foundation provided 49% of all US HIV-related philanthropic funding.
Gates said world leaders needed to accelerate efforts to reduce new HIV infections and deaths from AIDS in sub-Saharan Africa.
Globally, he said nearly half of people living with HIV are unaware of their status.
Gates said male medical circumcision remains one of the powerful prevention methods. He called for the numbers of medical circumcisions to double by 2020.
More funding was needed for prevention research and development, he said.
Earlier in the day, the Microsoft founder met with Deputy President Cyril Ramaphosa for an hour-long closed meeting on the sidelines of the conference taking place at Inkosi Albert Luthuli International Convention Centre.
The conference entered its third day on Wednesday and the quest to end AIDS by 2030 has been one that has dominated deliberations at various sessions attended by South African Cabinet Ministers.
Health Minister Dr Aaron Motsoaledi chaired a plenary in the morning where speakers debated the issue of finding an effective HIV preventative vaccine. South Africa has been among the countries that have been conducting trials on a possible vaccine.
Science and Technology Minister Naledi Pandor and Minister in the Presidency Jeff Radebe are expected to join the South Africa National AIDS Council (SANAC) this evening to discuss the development of the South African National Strategic Plan for HIV, TB and STIs.
Delegates are calling for bold actions to emerge from Durban to ensure the 2030 UN target of eradicating Aids is realised.
This week, Deputy President Ramaphosa, who also chairs SANAC, acknowledged that while South Africa had made numerous strides when it comes to treatment and care for those infected with HIV, the fight was not over. Too many people around the world still don't have access to treatment and the rate of new infections remained stubbornly high.
"In South Africa, we know that adolescent girls and young women between the ages of 15 and 24 accounted for 20% of infections last year. We must work harder to provide HIV counselling and testing," Deputy President Ramaphosa said.
On Wednesday, Bill Gates echoed the sentiment, saying countries were simply not doing enough to protect women and girls from contracting HIV. He said the conference in Durban must focus on efforts to find a vaccine and research funding will be critical in this regard.