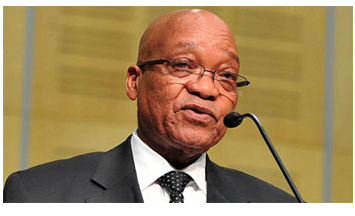 By– SAnews.gov.za
Cape Town – President Jacob Zuma says the Inter-Ministerial Committee on Investment will coordinate 40 priority investment projects aimed at creating jobs and igniting growth.
The President said this when he answered oral questions from Members of Parliament in the National Assembly on Tuesday. He was responding to a question on decisions that have been made to take the Nine-Point Plan to a higher level.
"The focus at the [recent Cabinet] Lekgotla was on key programmes and projects to deepen the implementation of the Nine Point Plan in the next financial year, which will ensure high impact and help reignite growth and stimulate job creation," he said.
The President said as part of the investment programme, the Department of Public Enterprises and National Treasury will consolidate the procurement of locomotives into a single organisation under Transnet. He said this would ensure that there is efficiency and compliance with the localisation requirements.
"We also looked at introducing legislative amendments to implement the 30% set asides by March 2017.
"This will unlock the potential of SMMEs, cooperatives and the township and rural enterprises," he said.
The President said government would also focus on labour-intensive sectors, including the need for various mechanisms to support a greater impact on jobs.
This, the President said, would include using incentive programmes for several sectors, including clothing, textiles, leather and footwear value chain.
President Zuma also said the Cabinet Lekgotla also agreed to accelerate the successful Ocean Economy intervention to expand coastal and marine tourism in order to realise significant job creation.
President Zuma said the 40 projects include agro-processing and agri-parks, energy and infrastructure, manufacturing and services projects.
"The Department of Trade and Industry will finalise the strategy for the deployment of locally developed technologies by the end of this year.
"Furthermore, the Department of Science and Technology and National Treasury will secure additional funding to sustain and expand the Sector Innovation Fund through the Economic Competitive Support Package.
"Priority continues to be placed on water saving and the minimisation of water losses. This month will witness agreements being completed with municipalities experiencing high water losses.
"This will be done to facilitate the placement of water agents and plumbers that government is training," he said.
The President said government launched the programme last year to train 15 000 young people to perform such a task.
He said, meanwhile, that government has identified a set of budget priorities for the 2017/18 financial year, which will focus on maintaining infrastructure spend, strengthening support for skills development and maintaining real levels of spending on the poor.