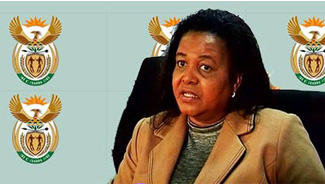 By– SAnews.gov.za
Pretoria – African countries, through their participation in the CITES CoP17, have the potential to influence the negotiations, says Environmental Affairs Minister Edna Molewa.
Speaking at the official opening of the 7th People and Parks Conference held in Midrand, on Tuesday, Minister Molewa said more than 120 documents will be considered during the 17th Conference of the Parties to the Convention on the International Trade in Endangered Species of Wild Fauna and Flora (CITES CoP17).
"Among these documents, 60 are proposals to amend the lists of species subject to CITES trade controls. This includes proposals submitted by South Africa.
"South Africa will support proposals and working documents that promote sustainable use of natural resources, provided they have a scientific basis and are aimed at securing the long term conservation of the species," said Minister Molewa.
South Africa will from 24 September to 5 October 2016 host the CITES CoP17 at the Sandton Convention Centre, where CITES Parties and observers are expected to engage in the robust discussions and come up with resolutions that take forward the work already underway around the trade in flora and fauna.
Minister Molewa said that CITES CoP17 affords South Africa an opportunity to showcase the country's rich biodiversity and successful conservation initiatives based on sustainable use management practices.
"This has resulted in us becoming one of the leading conservation countries in the world today; having saved species such as the black and white rhino and elephant from near extinction in the past century," the Minister said.
She added that South Africa's commitment to conservation includes the sustainable utilisation of natural resources, which contributes to socio-economic development of poor and rural communities.
"These are priorities outlined in our National Development Plan (NDP)."
She also highlighted that controversial and thought-provoking topics, such as interventions to address the poaching of elephant; the proposed listing of elephant, lion, rosewood species and sharks; as well as the illegal trade in rhino horn and pangolin, are probably the areas that will receive the most international and national attention.
"The conference will also deliberate on the role of CITES in securing the livelihoods of people living with wildlife and ensuring communities are considered in terms of interventions implemented in terms of the Convention.
"Other issues to be discussed include the legal and sustainable wildlife trade, measures to tackle illicit wildlife trafficking, and enhanced enforcement," the Minister said.