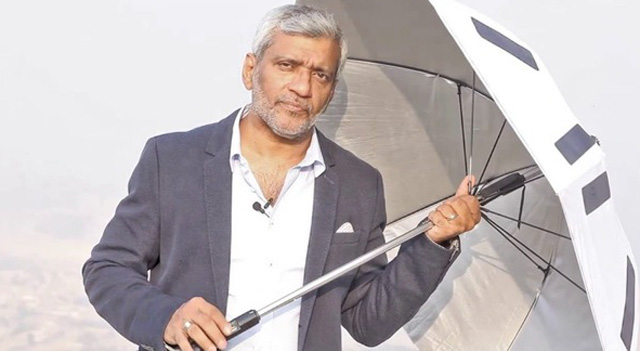 By SciDev.Net – Mohamed El-Sayed
Born in Makkah, Saudi Arabia, Kamel Badawi has served Hajj pilgrims as a volunteer every season since he was a young boy. More recently, he turned his attention to innovation, cooperating with a Palestinian designer to create a 'smart umbrella' with solar cells — not only to protect pilgrims from the sun, but also to supply electricity from solar energy.
The umbrella — named 'Kafya' by the designer, which means sufficient — has two layers of heat-insulating fabric on which 16 foldable, solar cells are distributed evenly across an area of 10 by 20 centimetres. A small fan is fitted in the middle, which a pilgrim can use to cool down. And at the end of the umbrella arm lies a flashlight, for anyone who wishes to read the Qur'an at night in the courtyards of the Grand Mosque of Mecca.
It also has multi-purpose USB outlets to charge mobiles and tablets, as well as a power bank.
The most important feature, Badawi explains, is that the umbrella is linked to a Global Positioning System (GPS) via a special code to its holder's smartphone. This means the holder's name, phone number and personal photo can be tracked accurately, which can help reach them easily — especially useful in emergency situations, for example when an elderly person may fall ill during the Hajj.
"All these benefits are combined in an umbrella that weights 400 grams, which a person weighing 100 kg can use as a walking stick."
Kamel Badawi, volunteer This also helps pilgrims to keep close to their travelling companions and rejoin them easily, reducing the problem of pilgrims wandering away from their missions.
The application is also connected to a geo-reference system: it sends out a warning when a group member goes beyond the geographical range specified by Hajj authorities for the rites of pilgrimage in Mecca.
"The umbrella can perform its services for 35 continuous hours, before needing to be recharged, either by sunlight or directly through the grid," Badawi tells SciDev.Net.
"All these benefits are combined in an umbrella that weights 400 grams, which a person weighing 100 kg can use as a walking stick," he adds.
"The current available model of the umbrella is a prototype which was patented in June by the US Office of Patents and Trademarks, and pending another patent from the Gulf Cooperation Council (GCC) patent office," according to Manal Dandis, the co-designer of the umbrella.
"Our goal now is to have our innovation adopted by an international company or a government agency, and to launch the commercial production process," Manal tells SciDev.Net.
Magdi Murad, a professor in the Department of Engineering Applications of Lasers at the National Institute of Laser Enhanced Sciences at Cairo University, Egypt, tells SciDev.Net: "The weight [of the umbrella] is perfect considering the services it provides, allowing other groups to make use of it — such as petroleum field and mine workers, and others who work for hours under the sun and away from power sources."
For Mohammed Aboud, manager of the 'Hadath' Company for innovation and entrepreneurship in Egypt, the umbrella's biggest challenge is that it is equipped with solar cells. "If its designers managed to provide high-quality cells, so as not to be affected with frequent folding and opening, and [if they can] lower the cost further, it will find its way into the markets easily."
Responding to Aboud's concerns, Manal says: "We have taken into account, in the design, the ease of opening and folding the umbrella without affecting the efficiency of the solar cells."
As for the cost, Manal points out: "We cannot determine it [the cost] now, but it will be more expensive than regular umbrellas, obviously, though cheaper than its components if you bought them individually."