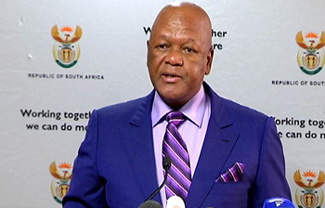 By– SAnews.gov.za
Pretoria – Cabinet has welcomed the resumption of classes in many universities and urged all students to return to class.
"This is a critical period for the academic programme with examinations around the corner. Government believes that the concerns of students can be addressed through dialogue while the academic programme is underway," said Minister in the Presidency responsible for Planning, Monitoring and Evaluation, Jeff Radebe.
Addressing the media during a post Cabinet briefing in Pretoria, on Thursday, Minister Radebe said Cabinet remains concerned at the outbreak of violent student protests on some university campuses around the country.
He reiterated that while the right to protest is protected under the Constitution, there is no room for the violence, intimidation and the destruction of property.
"All stakeholders must do everything in their power and take every steps necessary to save the academic programme as the consequences facing will be dire to the economy, students and matriculants.
"Education is everyone's responsibility, let us all work collectively together to bring about normality to higher education for the future of our children and for the future of our country," said Minister Radebe.
Students have been protesting over the 2017 fee increment which was announced by Higher Education and Training Minister Blade Nzimande, recently. He announced that universities would decide on their increases individually but that the fees should not increase by more than 8%.
Matric exams
Meanwhile, Cabinet has wished all students well as they embark on their final year matric examinations.
Minister Radebe encouraged the class of 2016 to stay focussed as they embark on 2016 National Senior Certificate Examinations, which officially starts on 24 October 2016 and ends on 29 November 2016.