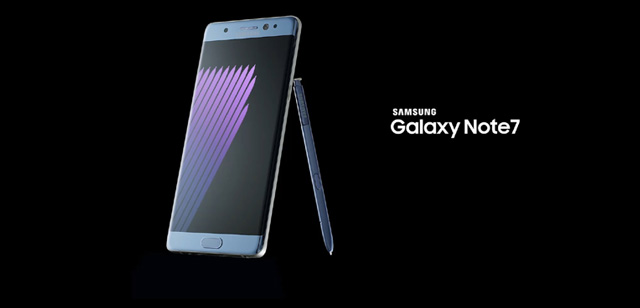 The days are numbered for the last remaining Galaxy Note7 holdouts. In an effort to safeguard any devices that are still in circulation, Samsung announced it will be pushing out a software update that will prevent charging, effectively bricking the beleaguered handset.
In a press release, Samsung said that while it has had "overwhelming participation" in the Note7 U.S. recall program, some 7 percent of devices remain in customers' hands. Starting Dec. 19 and continuing over the following 30 days, the company will be working with carriers to ensure any outstanding devices are rendered inoperable and returned, though it remains to be seen how smoothly the rollout will go.
In a statement released shortly after Samsung's announcement, Verizon said it will not be taking part in the update "because of the added risk this could pose to Galaxy Note7 users that do not have another device to switch to. … We do not want to make it impossible to contact family, first responders, or medical professionals in an emergency situation." However, CNet reports that other carriers are bring more cooperative, with T-Mobile's update landing Dec. 27, AT&T's coming on Jan. 5, and Sprint delivering its update on Jan. 8.
The update coincides with a move by Samsung to place "functional limitations" on battery charging, Wi-Fi, and Bluetooth in Canada, as well as restrict access to any Canadian cellular network.
After Samsung's own voluntary recall of the device failed to stop the phones from catching fire and exploding, the U.S. government issued an official recall of the Note7 in September to prevent further incidents. Samsung has been mum on what caused the issue, but signs point to a case that was too thin for the battery.
Update 12/12/16: Samsung also plans to disseminate updates to the remaining Note7 users in the UK and Australia as it continues to tie up any loose ends. Beginning on Dec, 15, the company says that all UK devices "will receive a new battery software update that will limit the maximum charging capacity to 30 percent," while Samsung Australia is "working with local telecommunications operators to discontinue Australian network services for Galaxy Note7 devices that are still being used."
The impact on you at home: If you are one of the people still clinging to your Galaxy Note7, give it up. This is an issue of safety, and Samsung is doing the right thing to make sure all Note7s are safely returned. Those who still have one can find Samsung's guidelines for returning it here.