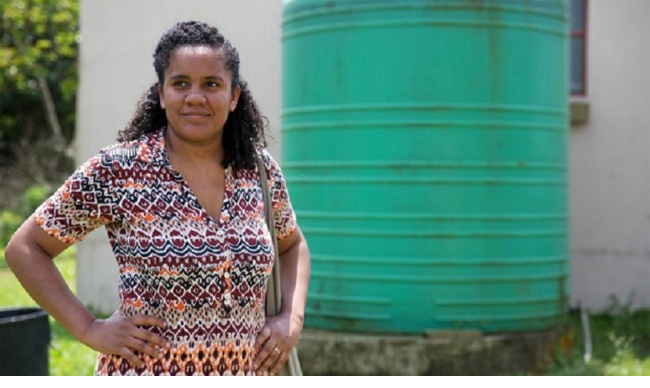 A mobile app, designed by a Mozambican civil engineer, uses real-time climate data to help farmers in the region harvest rainwater more effectively. The app has been shortlisted for the Africa Prize for engineering innovation from the UK's Royal Academy of Engineering.
Civil engineer Aline Okello, who specialises in water sciences, has designed software to find rainwater harvesting solutions and create water management awareness in her country of Mozambique and across the rest of Africa. Okello is a Fellow at the Unesco Institute for Water Education, the largest international postgraduate water education facility in the world.
Mozambique regularly experiences two weather extremes – very wet summers and very dry winters. Excessive summer rainfalls cause flooding, while harsh winters can affect farming. Okello has made it her life's work to find a useable solution to combating the challenges by identifying climate patterns, specifically where and when the most rainfall is found.
Her software sources reliable, live precipitation data from Nasa weather satellites; the data is then relayed to farmers via a mobile app, giving them vital information on the best time and place to harvest the rainwater in reservoirs for use during the dry season.
Apart from helping farmers, the app can also advise rural communities on water management, harvesting rainwater on a small scale from rooftops and collection tanks.
The key to the idea, says Okello, is knowledge. She tells The Guardian website: "(Mozambique has) only limited water management and infrastructure, so there is a huge need for growth and technology. People don't have any idea how much water they can actually save … there is a huge information gap."
Smartphones are increasingly popular in Africa, even in rural communities, so smartphone technology presented the best way to spread the knowledge.
Using the harvesting aspect of the app, users input the type of roof or collection reservoir they have, and then, based on their location and average rainfall figures, the software determines how much water can be harvested every day and month. The app also advises on harvesting methods and equipment needed to best collect and safely store rainwater.
Previous methods of saving rainwater, using poorly built boreholes and contaminated containers, often led to the spread of waterborne diseases.
Over the last year, Okello has been testing the technology among rural communities and farmers in South Africa, primarily around Mbonambi, KwaZulu-Natal.
Ultimately, she hopes, the rainwater harvesting app will become a one-stop hub of easily accessible information to help the entire continent meet the challenges of climate change. She says: "My vision really is to bring information to people's fingertips."
Royal Academy of Engineering's Africa Prize 2017
According to a press release from the Royal Academy of Engineering in London, its Africa Prize for engineering innovation is aimed at "encouraging ambitious and talented sub-Saharan African engineers from all technical disciplines to apply their skills to develop scalable solutions to local challenges, highlighting the importance of engineering as an enabler of improved quality of life and economic development".
Included in this year's shortlist, along with Okello, are various ideas from eight African countries that find viable, environmentally friendly solutions to all aspects of African society. Three South African innovations, focused on solar energy, are on the shortlist. Candidates will pitch their ideas in Nairobi, Kenya, on 23 May 2017, following which the winners will be announced.
As part of the Africa Prize initiative, vital commercial support and development of the shortlisted concepts means candidates such as Okello can take small, localised ideas and turn them in global game-changers.