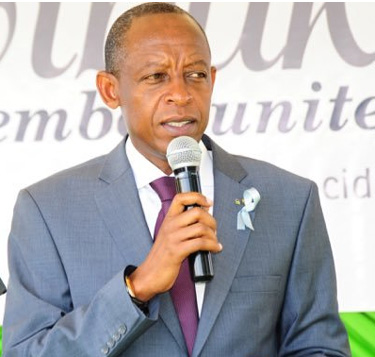 Rwandan High Commissioner to Kenya H.E James Kimonyo has unveiled new incentives to Kenya businesses wishing to establish or grow business in the country. "With just 12 per cent of inter-country trade among African nations there is so much opportunity and room for growth between us," he said at the second edition of the Rwanda Business Forum at a Nairobi Hotel. The envoy unveiled new incentives to investors planning to invest in the country that together with Kenya are among the top ten fastest growing economies in the World.
He cited the Standard Gauge Rail from Mombasa as an important development that will boost trade between the two economies. "Despite the dark past Rwanda had gone through we have moved on and are ready to proudly be part of the community of nations that every investor wants to come to," he said. He added that the visionary leadership of President Paul Kagame has continued to ensure stability of the country, business reforms that inspire investors from near and far to invest their significant resources in Rwanda. ALSO READ: Unilever inks Sh730m deal with farmers for oil Like Kenya, he said, Rwanda seeks economic development and long-term transformation by unleashing the potential of her citizens to be more productive and through beneficial partnerships with the private sector. Some of the new steps include zero rates for raw materials imported for the manufacturing industry. Ambassador Kimonyo whilst acknowledging that Rwanda was a landlocked nation is heavily investing in Air transport and that a new state of the art International Airport was currently being constructed. Rwandan Second Counsellor Glory Kayijuka Mbabazi enumerated various business and investing opportunities in the country including in the mining sector, in manufacturing including packaging as well as tourism.
The manufacturing sector in Rwanda has been experiencing steady growth & growing at annual rate of 7 per cent a target to increase industrial contribution to GDP to 26 per cent by 2020 "Rwanda provides healthcare for all and this has created huge demand for pharmaceuticals and herein lays a great opportunity to invest," she illustrated. She pointed out the potential for investment along Lake Kivu in western Rwanda where tourism could thrive. With a population of 12 million people Rwanda has had a high demand for financial and other services attracting such regional bank giants as KCB Bank.  "The ICT ready Rwanda made it easier for us to penetrate the unbanked population. In fact our first agency banking was rolled out in Rwanda with much success," said KCB Bank representative David Kitheka at the function. He disclosed that KCB Bank has recently invested Sh 3billion in mortgages in Rwanda with 250 new mortgages this year alone. Speaking during the second edition of the Rwanda Business Forum in Nairobi, the Kenya National Chamber of Commerce and Industries (KNCCI) Chairman Kiprono Kittony disclosed an agreement is to deepen dialogue and establish new areas of collaboration between Kenya and Rwanda had been signed between his organisation and Rwandan business community. He explained that the agreement was aimed at further fostering trade between the two highest growing economies in the region. Mount Kenya University Chairman Prof.
Simon Gicharu testified that Rwanda is arguably the best environment for doing business. He explained how he established the University in Rwanda and how fast it has grown thanks to a conducive Rwandan business environment. "Attracting investment is a priority for Rwanda. We continue to make it easy to do business, and have established a very friendly investment code. We are ready to discuss business and investments right away," said Ambassador Kimonyo in a persuasive note. And his message seemed to sink as one of the participants from Australia sought to know how his team would work with the Rwandan government to explore and utilise minerals in Rwanda. "It is time for us to have Rwanda whose economy has the contribution of minerals and we welcome you," he told the Australian. In the continued effort to ease business registration in Rwanda the Rwanda Development Board (RDB) has introduced online registration as a mandatory provision for business. As a result business registration in Rwanda is free of charge, quicker, easier and convenient as attested by some of the participants at the event.