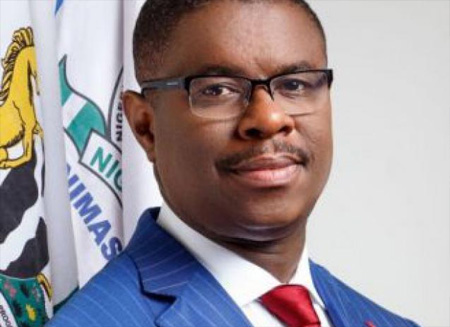 Charges foreign investors to tap into African Maritime industry for mutual benefits
The Director General of the Nigerian Maritime Administration and Safety Agency (NIMASA) Dr. Dakuku Peterside has stated that Africa is ready to engage on equal terms with the rest of the world in the area of maritime businesses.
Dakuku who made this known at the Nor-Shipping 2017 event holding at Lillstrome, Norway from May 29 till June 2, 2017, further stated that it is high time Africa stopped others from engaging us on their own terms, whether they bring vessels to us or just taking our cargoes; rather all we want is a mutually beneficial relationship where we can give and also receive.
"What we are trying to do is to change the terms of engagement for the rest of the world in terms of maritime businesses. We want to operate on equal terms not lopsided terms against our own interest, thereby creating room for a mutually beneficial relationship," the DG averred.
Dr. Dakuku further stated that Nigeria's participation at Nor-Shipping is to say to the world that we have a lot to offer. "There are lots of opportunities in the maritime administration of Nigeria; we are diversifying our economy, we are the biggest economy in Africa with a vast population, vast coastline of over 800 kilometers, endowed with many natural resources and a good Gross Domestic Product (GDP) amongst others. So if you have to do business in Africa, you must talk about Nigeria", he said.
Meanwhile, the NIMASA DG who was recently appointed the Chairman of the Association of African Maritime Administrations stated that part of the initiative to grow the African maritime industry is to rapidly build capacity amongst nations within the continent.
"If you look at the number of seafarers we have globally, it appears things are lopsided against Africa and the challenge appears to be sea time training, so we are talking about sea time and building capacity," he said.
He also noted that there are no African fleets; hence the need for nations to develop their own fleets has become inevitable while the terms of trade is being looked into.
In his words, "what is going on is that many other countries of the world just come to Africa to take our cargoes and off they go; please, how can we all operate on the same footage? Africa has something to give hence, they are coming to us, therefore they must engage us on equally beneficial terms".
He equally added that the African continent is working together to see how to benefit from one another's experiences, which will help in the running of the affairs of their maritime administrations.
Other areas are, enhancing the continent's fleets, human capacity development, peer review in terms of maritime administration, ports state control, coastal control and infrastructural growth, all geared towards a virile maritime administration in Africa.
Nor-Shipping is a bi-annual event that brings together Stakeholders in the maritime sector from various continents aimed at improving the global maritime sector. The event also features exhibitions amongst others. The main theme for this year's event is "Catalyst for Change".