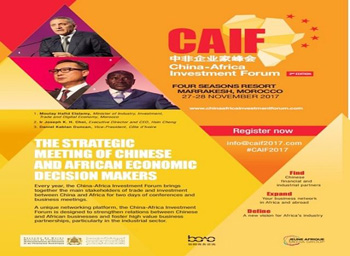 Rabat – More than 400 influential Chinese and African economic figures will attend the 2nd China-Africa Investment Forum held in Marrakech, November 27 and 28.
Over the two days, conferences, debates and workshops will be held to encourage economic relations between China and Africa, as well as to help the two regions to understand each other better. A press release issued for the event announced the desire that "sustainable partnerships" would be made after the event.
The forum will be held as part of China's "one belt, one road" initiative, a development strategy put in place by Chinese President Xi Jinping aiming to connect the Asian nation with other countries, both economically and politically.
China already has more than 10,000 businesses in Africa that generate over USD 60 billion each year, and trade between the two sides is around USD 122 billion.During the last year, non-financial direct investments have increased by 31 percent between the two, reaching USD 2.5 billion.
The location of the forum was announced by Morocco's Minister of Industry, Trade, Investment and Digital Economy, MoulayHafidElalamy, who is organising the event in conjunction with JeuneAfrique Media Group and BOAO Business Consulting.