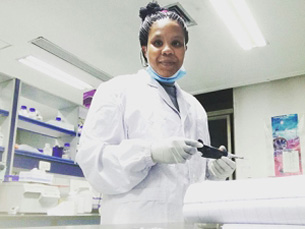 Lorato Modise, a PhD student in the Department of Biological Sciences on the North-West University's (NWU's) campus in Mahikeng, is set to present a paper at the seventh Annual South African Young Scientists' Conference. The conference will take place on 19 July 2017 at the Birchwood and OR Tambo Conference Centre in Johannesburg.
Her presentation is titled "Molecular Characterisation of HIV and HBV among the HIV-infected Pregnant Women in Mahikeng, South Africa: Advocating the need for Policy Implementation on Routine Genotyping of HIV and HBV". This presentation advocates the importance of placing young scientists and science, technology and innovation at the heart of national strategies to achieve the sustainable development goals.
The conference is hosted by the Department of Science and Technology, the Academy of Science of South Africa, South African Young Academy of Science, the Organisation for Women in Science for the Developing World South Africa Chapter, the World Academy of Sciences Regional Office of Sub-Saharan Africa and the National Research Foundation.
The conference's theme, "Young Scientists' Role in Science Advice", is aligned to the 2017 African Union Year Theme, "Harnessing the Demographic Dividend through Investments in Youth".