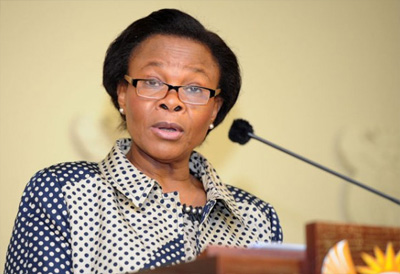 By – SAnews.gov.za
As South Africa marks the beginning of Women's Month, Minister in the Presidency responsible for Women, Susan Shabangu, has called on men to take part in the struggle against gender-based violence.
Minister Shabangu made the call during the official launch of the 2017 Women's Month held in Tshwane on Tuesday.
South Africa commemorates Women's Month in August as a tribute to more than 20 000 women who marched to the Union Buildings on 9 August 1956 in protest against the extension of pass laws to women.
Minister Shabangu said working with men through strategic partnerships is necessary to transform society.
"Women … must feel free. Men must make sure that they work together with women, and also play a role in ensuring their safety," Minister Shabangu said.
She said it is encouraging that some men have answered the call to work together to end violence on women.
"These men have launched campaigns that recognise that it is not enough for men to be silent when their sisters, cousins, partners, friends, wives, neighbours and mothers are violated and live in fear. This is testimony that there are good men who care."
However, the Minister stressed the need to see and hear more men speaking out and acting against the abuse of women.
She also acknowledged various faith based organisations (FBOs), who have joined the fight for no violence against women and children. She called on other FBOs, including traditional leaders, community leaders and women's organisations, to stand up against violence, drug abuse and other social ills, 365 days of the year.
"We believe that forging partnerships with communities, business, FBOs and traditional leadership will give women first hand opportunity to directly influence government programmes and ensure the mainstreaming of gender issues through the National Dialogues Programme," said Minister Shabangu.
Dialogue Programme
The Women's Month launch also marks the rolling out of the National Dialogue Programme. The department visits communities to have honest conversations about how women have internalised the roles that have been taught to them in their families, schools, by friends, in places of worship, and in the media.
The Minister said that the dialogues are also going to scrutinise the effects of how families "reserve the biggest piece of meat for men".
"Our churches are led by men, the majority of schoolbooks are written by men, and the media is dominated by men. These realities contribute to how men are positioned as more important than women in society," she said.
Not in my name
The chairperson of the organisation, Not In My Name SA, Siyabulela Jentile, called on men to take part in the fight against the scourge of violence against women.
"It's not enough as South African men to say we are sorry to the women of South Africa, but we need to take corrective action towards making these programmes a success… We call on all men to come forward and join forces with us so that we can take collective responsibility and collective action to say 'not in my name'.
"We are not going to allow the scourge of women and children abuse to [carry on]. We are saying enough is enough and as men of South Africa, we are coming out to speak against gender-based violence," said Jentile.
This year's Women's Day will be held in Galeshewe Stadium in Kimberley, Northern Cape, and will be celebrated under the theme, 'The Year of OR Tambo: Women united in moving South Africa forward'.