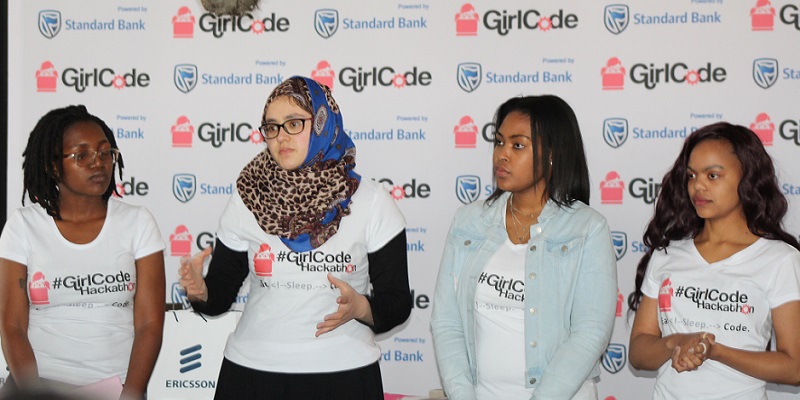 Students from the University of Cape Town won a trip to an international conference in the US at a women-only hackathon.
A group of female students from the University of Cape Town won a hackathon on 6 August 2017 and will be attending an international information technology conference for women in the US as their prize.
Kungela Mzuku, Fadzai Mupfunya, Lorna Nqodi and Valerie Tshiani, all students, took part in the #GirlCodeHack run by the nonprofit organisation, GirlCodeZA. It is the organisation's fourth annual women-only hackathon held in Johannesburg.
The four women would be exposed to big American companies that had a female developer base, said the organisers. These included Microsoft, Facebook and Twitter.
Zandile Keebine, Jeanette Theu and Tinyiko Simbine, who all work at tech companies, are the founders of GirlCodeZA. Speaking to Brand South Africa previously, Keebina said she had been to many hackathons where she was either the only female or one of a few to attend. This prompted her to approach her employer to organise a women-only hackathon. GirlCodeZA started in 2014.
How the hackathon grew
According to Keebine, the purpose of the hackathon is for women to connect, network and inspire each other. "We want them to see they are not alone [in the male-dominated industry] and that collaboration is key.
"Just from this weekend's event we can see there are many women in the tech industry."
There were about 20 contestants in the 2016 hackathon; this year there were more than 80. "When we started out, it was just a fun thing to do. However, it seems the contestants are a lot more serious now. They understand that there are opportunities for them to position themselves," Keebine said.
"The women are looking for bursaries and job opportunities. We asked them to send us their curriculum vitaes."
She said the hackathon allowed the contestants to innovate and create solutions for everyday problems. They had 30 hours in which to design their response. "Each team then creates a website or an app or an internet of things solution. It is up to them to decide."
Keebine explained that being able to create a solution showed companies that the developer had the skills needed in the industry.
Mzuku said: "It will be our first trip to the USA. We are still in shock [that we won]."
She and her three teammates are studying information systems in the Commerce Faculty at the University of Cape Town. "Our department told us about the hackathon and sponsored the trip."
They will attend the Grace Hopper Celebration of Women in Computing, believed to be the world's largest gathering of female technologists, in October this year. The event is produced by the Anita Borg Institute.
Thembi Mbatha says it was a struggle to execute their idea at the hackathon, but working together helped to solve it.
Thembi Mbatha, a contestant, said it was the first time she had taken part in this hackathon. "I came here knowing no-one. I'm a shy person," she confessed.
"As a woman in the technology industry, an event like this makes you realise you are not the only one. It's great to see more women are growing in the industry and coming up with solutions."
She learned how to work in a team to create a solution, she said. "[The hackathon] is awesome. We also met mentors who groomed us. I'm also willing to share my skills in the future."
But hackathons should not only take place in cities, Mbatha said. "I feel hackathons should be taken to rural areas as well."