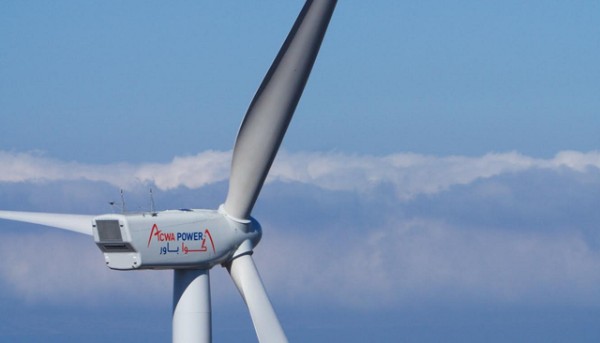 Morocco World News) Rabat – Production at the is finally kick starting. Its first ever produced kilowatts have been injected into the high voltage network, directly feeding the industrials electric needs.
Located in Jbel Sendouq, 30 kilometers from Tangier, this farm built by the Saudi owned for a MAD 1.7 billion has a capacity of 120 megawatts.
The wind farm is composed of 40 wind turbines, each one of them is installed on a tower of 80 meters and equipped with three blades of 45 meters each. The startup of the first turbines will immediately provide the supply of high voltage electricity.
'The latest turbines that will be operational within four months will achieve the maximum capacity,' says 's press release. The Khalladi wind farm, that will produce approximately 380 gigawatt per hour a year, equivalent to the average annual consumption of a city of 400,000 inhabitants, will supply directly to large industrial customers connected to the high-voltage grid.
'We are proud to contribute to achieving Morocco's ambitions for capacity development while supporting the country's industrial fabric,' said Badis Derradji, Regional Director of Acwa Power.
The first project developed by ACWA Power in collaboration with the ARIF investment fund, the Khalladi wind farm is financed by a contribution from the European Bank for Reconstruction and Development, in collaboration with the Clean Technology Fund and the BMCE bank.
'The connection of the Khalladi first wind turbines to the national electricity grid, and the start of green power supply to our customers, marks the great success of a long development process in which Infra Invest has been actively contributing,' said Abdellatif Nasserdine, managing director of Infra Invest, a management company of the ARIF Fund that owns 25 percent of Acwa Power Khalladi.
ACWA Power is a developer, investor and operator of a fleet of power plants and water desalination units in 10 countries throughout the Middle East, North Africa, South Africa, and Southeast Asia. ACWA Power's fleet, with an investment of more than USD 30 billion, generates a capacity of more than 22 gigawatts and a water desalination capacity of 2.5 million cubic meters per day.