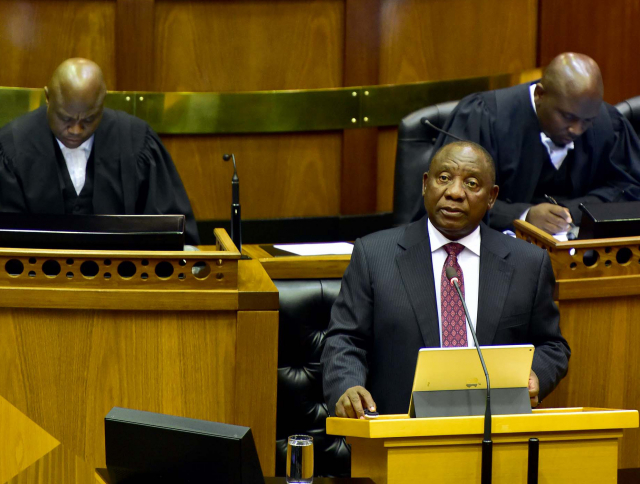 President Cyril Ramaphosa says the most important people are ordinary South Africans, who are faced with socio-economic challenges ranging from poverty to diseases.
The President said ever since he delivered the State of the Nation Address (SONA) last week, many have given him an indication of a sense of patriotism with the message, "Send me".
Responding to a debate on the SONA in the National Assembly on Tuesday, the President said the State – government and parliamentary public representatives – should always aim to serve citizens in an inclusive manner.
"Since delivering the State of the Nation Address on Friday night, I have been humbled and encouraged by the response of people from all walks of life to the call to work together to build a new, better South Africa.
"They are galvanised by a sense of patriotism that elevates the interests of the country above narrow, selfish interests. They are moved by a conviction that tomorrow will be better than today. They have all been saying they are ready to lend a hand to build a South Africa that benefits all its people.
"I have received messages from many people consisting of only two words: Send Me," he said.
The words "send me" — a direct reference to a popular song by the late renowned jazz maestro Hugh Masekela – featured strongly in the President's maiden SONA on Friday, 16 February. These words quickly gained popularity, with the nation expressing their enthusiasm for working with government to help develop the country.
Citizens and their needs remain government's top priority
President Ramaphosa said what emerged clearly from Monday's debate was that all Members of Parliament are committed to building a nation where progress is measured not
pirit and intent of our democratic Constitution.
"There are few in our country who would contest the fact that dispossession of black South Africans of their land contributed fundamentally to the impoverishment and disempowerment of the majority of our people," he said.
He said while jogging with residents from Gugulethu to Athlone on Tuesday morning, he met a resident by the name of Cedric Alberts, who was forcibly removed from District Six in 1969.
The President said Alberts' family story illustrates in vivid terms the pain and damage caused by the former rulers of this land.
"The expropriation of land without compensation is envisaged as one of the measures that we will use to accelerate the redistribution of land to black South Africans.
"We will need to determine, collectively, how we can implement this measure in a way that promotes agricultural production, improves food security, advances rural development, reduces poverty and strengthens our economy," he said.
He said for it to serve this purpose, there is a need to locate this measure within a broad and comprehensive land redistribution and agricultural development programme.
"This is a profound responsibility that has been given to our generation.
We owe it to our ancestors and to our children to ensure that we fulfil it.
"In dealing with this complex matter, we will not make the mistakes that others have made. We will not allow 'smash and grab' interventions. We will handle this matter in the same way we have handled all difficult issues our country.
"We will always seek to do what is in the interests of our people," he said.
President commends MPs for restoring the decorum of the House
The President said he was pleased to see that the dignity of the House had been restored.
He said the debate was conducted in a respectful manner and that it engaged with the issues that most directly affect the people.
"The debate was conducted with decorum and respect – respect for each other, respect for the dignity of the House and respect for the people that we have all been sent here to represent.
"We should always remain mindful that this is the People's Parliament. It was built by our people, for our people and it belongs to our people.
"The dignified manner in which the debate was conducted was very much in accord with what our people expect from their representatives in this, their House."