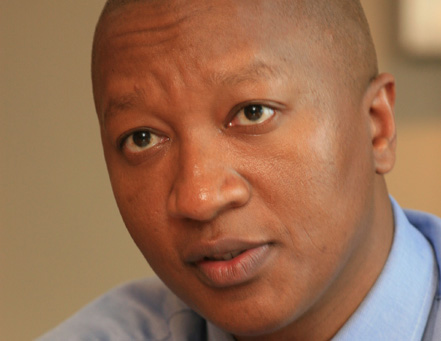 SOUTH African property developer and entrepreneur Sisa Ngebulana has been recognised for his contribution to society and the national business landscape with an honorary doctoral degree in commerce, which was bestowed on him by Walter Sisulu University (WSU) at a graduation ceremony in his hometown of Mthatha (May 2).
He is the only figure to be honoured in this way by WSU during its 2018 graduation season this May.
Ngebulana, the founder and executive chairman of Billion Group – the first major black-owned property company in South Africa, also founded Rebosis Property Fund which, in 2011, became the first black-controlled property fund to list on the Johannesburg Stock Exchange.
He has returned to Rebosis as caretaker CEO following the recent resignation of Andile Mazwai, and will also continue in his strategic role as deputy executive chairman.
Ngebulana said the award resonated deeply on a personal level because of his strong family connection with Mthatha – the town where he spent his formative years.
"I grew up with my grandparents in Corhana [a village outside Mthatha] and graduated from the University of Fort Hare – which makes this recognition very special and meaningful," he told graduates at the ceremony.
"Growing up, I spent a lot of time in my grandparents' business. They owned a general dealer store where I had my first taste of business. They also had a brick field business. This is where I developed a passion for real estate."
Challenges in life – and in business – should be met as opportunities to learn and grow, he said.
"Use challenges as opportunities to innovate or create solutions that didn't exist before. Being exposed to challenging circumstances teaches you new skills."
Following the ceremony, Ngebulana thanked the university and people who had helped and mentored him in his formative years.
"Receiving this doctorate from Walter Sisulu University is a huge honour. I was able to become what I am today thanks to support from influential people in my life, such as my grandparents. The saying that it takes a village to raise a child could not be truer in my case, and I feel so privileged to be receiving this degree."
The Corhana-born business leader has contributed to Mthatha's economic development through the landmark property development, BT Ngebs City. Inspired by the entrepreneurial spirit of his grandfather, for whom it is named, the multi-billion-rand, mixed-use development includes a 60,000m2 shopping mall and – as of last year – the four-star Mayfair Hotel. Late last year, ground also broke on the town's first casino and entertainment complex.
Ngebulana is also credited with conceiving and developing retail assets such as the Eastern Cape's biggest shopping centre, Baywest Mall in Port Elizabeth, Hemingways Mall in East London, Forest Hill City in Centurion and Mdantsane City in Mdantsane outside East London. The first three super-regional malls have become the catalyst for surrounding lifestyle developments that include office and residential components.
Between 2007 and 2015 in the Eastern Cape alone, the malls created a combined 25 340 jobs during the construction phase and 11 170 post-construction, making Ngebulana's group the biggest investor and largest job creator in the province. A further 7 600 construction phase jobs and 3 360 post-construction jobs were created by the Forest Hill City development in Gauteng.
"My wish is for the youth in Mthatha and throughout South Africa to be inspired by my story and to realise that they don't have to be born into wealth to become successful. Hard work, dedication and believing in oneself goes a long way to achieving success," said Ngebulana.
"I have had plenty of challenges along the way, but I never let them define me or overcome me or define me."
Ngebulana has several degrees to his name, including a bachelor's degree in law from the University of Fort Hare, an LLB post-graduate degree from Natal University and an LLM master's degree from the former Rand Afrikaans University. He is an admitted attorney of the High Court of South Africa.