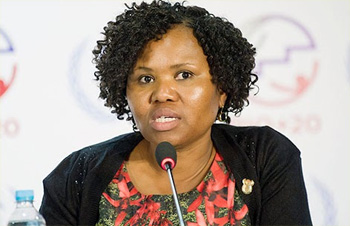 A national strategy is being developed to address the negative impact of red tape on small businesses and cooperatives, Small Business Development Minister Lindiwe Zulu announced on Thursday.
"We are in the process of developing a National Red Tape Reduction Strategy, which will provide clarity on the logic, model and theory of change that underlie various red tape interventions and methodologies, and their associated advantages and disadvantages," Zulu said.
Zulu said the strategy will provide clarity on which interventions and methodologies South Africa will prioritise, and it will be accompanied by a clear programme of action.
Once the strategy has been developed, the Minister said her department will focus on its operationalisation over the next Medium Term Strategic Framework (MTSF) year cycle.
Zulu made the announcement at the 5th National Small, Medium and Micro Enterprises (SMMEs) Policy Colloquium in Boksburg, Gauteng.
The colloquium places emphasis on the development and support for SMMEs and cooperatives in townships and rural communities, and locates local economic development as central to the development of these underserved areas.
The two-day meeting is hosted by the Department of Small Business Development, in partnership with the Small Business Development Institute (SBDI) and the City of Ekurhuleni. It is held under the theme 'THUMA-MINA: Creating and supporting economically active and viable towSA:nship and rural economies'.
Red Tape Guidelines for municipalities
Zulu said her department will also review the existing Red Tape Guidelines for Municipalities and develop National Guidelines for Red Tape Reduction that are aligned to the National Strategy for Red Tape Reduction.
She also announced that the department has commissioned the analysis and amendments to Schedule 1 of the National Small Enterprises Act, which defines what SMMEs are.
"Adopting the new definitions and the updated schedule will establish a platform for a 'single version of the truth' when reporting and measuring the impact of investment in SMMEs on economic growth and job creation. This review of the definition will provide for a single definition and application of what SMMEs are," Zulu explained.
The schedule was gazetted for public comment on 12 October 2018.
Zulu further announced that the department's Monitoring and Evaluation Unit is currently collaborating with National Treasury on the monitoring of implementation on the 30% set-aside for categories of SMMEs and co-operatives to address the linkage of SMMEs to public sector procurement opportunities.
This follows a study the department undertook in June 2017, which found that 71% of co-operatives were operational and the remainder were not. The study found that the co-operatives sector was besieged with a number of challenges, including limited understanding of the co-operative principles, lack of entrepreneurial spirit, and lack of access to finance and markets.
Zulu said her department has developed a draft Enterprise and Supplier Development Framework, with the aim of coordinating and facilitating a portfolio approach to enterprise and supplier development.
Enterprise and supplier development is a prescribed priority element in the Black Economic Empowerment Act, 2003 (No. 53 of 2003), as amended.
Small Business Development Institute CEO, Xolani Qubeka, said all the stakeholders have a huge task in helping co-operatives to scale up.
"We have a singular responsibility to mobilise and work with our communities in expanding the economic landscape of our country," Qubeka said.