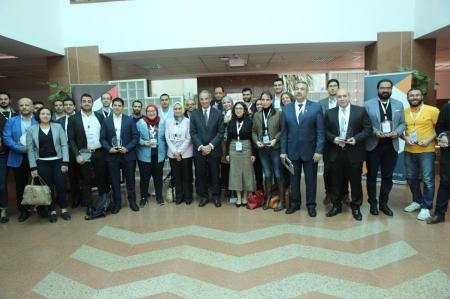 The meeting comprised an open discussion and exchanging ideas between the CIT Minister and the entrepreneurs
The Minister of Communications and Information Technology, Amr Talaat, met with a handful of successful Egyptian startup entrepreneurs during "Startup Day" hosted by the ITIDA's Technology Innovation and Entrepreneurship Center (TIEC).
The meeting comprised an open discussion and exchanging ideas between the CIT Minister and the entrepreneurs, where the minister stated that Egypt is supporting and investing heavily in the ICT-based innovations and the entrepreneurship ecosystem as a whole given its importance in building a creative and knowledge-based economy.
"Startup Day" is a platform aimed at stimulating tech innovation and entrepreneurship through engaging with entrepreneurs where they can showcase their success stories and share experiences and challenges to inspire their peers and to recognize their achievements that are acknowledged by leading organizations and are featured in related global reports.
The recognition of more than 30 start-ups comes on the heels of notable developments made by these companies where most of them have been listed among the best startups in EMEA region while a number of them have won first places in renowned high-tech innovation competitions.
The Ministry of Communications and Information Technology (MCIT) is building on Egypt's thriving startup scene by accelerating innovation capabilities and supporting entrepreneurs through multiple initiatives that help transform their creative ideas into commercial projects and creating an enabling environment for growing and expanding startups.
Talaat referred to the great strides that Egypt has made and the continuing endeavors to encourage entrepreneurship and qualifying digital-savvy calibers across Egypt, thereby increasing Egypt's ICT exports, and promoting Egypt's position as an IT and innovation hub on regional and global levels.
The ICT Minster highlighted that the digital transformation present projects offer huge opportunities for the local startups where they can deploy their innovative tech and digital solutions.
He added Egypt's national strategy for Artificial Intelligence (AI) is to be implemented within three to five years, in collaboration with the Ministry of Higher Education and Scientific Research.
Deputy Minister for Human and Institutional Capacity Development and ITIDA's Acting CEO, Hala El Gohary, along with TIEC Chairperson and ITIDA's Vice President, Hossam Osman, and a number of MCIT and TIEC officials attended the event.
The list of the recognized and honored companies included Buseet, CanBank (Zeroprime Technologies), Chefaa, edfa3ly, El Krem, En2l, Fakahany, Furnwish, Garment IO, GBarena, GoodsMart, Halan, KarmSolar, Mayday, Med Predict, Mobi Bills (Ordera) Money Fellows, Mumm, Pas Sport, Shezlong, Simplex, Spare, Tareeqi, Taskety, Trella, Vezeeta, Wasla Browser, Weelo, Wide Bot, Wuzzuf.
The United Nations has selected Egypt to host its Regional UN Technology Innovation Lab, the first lab in Africa within its plan to deploy a global network of technology innovation labs across the globe.
Egypt has already established its reputation as a hotspot for tech startups and primary location for major tech players looking to establish their IT/ ITES global delivery centers and R&D labs.