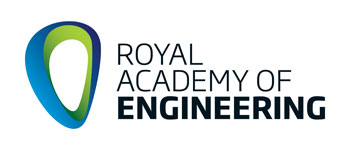 A high-tech glove that translates sign language to text and speech, a currency exchange platform that moves money between users to reduce the need for foreign exchange, a smart locker that dispenses medication for chronic conditions, and a business giving women in low-income families access to sustainable, off-grid housing are the four innovations selected as finalists for the Royal Academy of Engineering's 2019 Africa Prize for Engineering Innovation.
The finalists were chosen for the innovative ways engineering was used to solve every day problems, and come from Kenya, Nigeria, South Africa and Uganda.
"Our four finalists have shown a high level of determination, resilience, ingenuity and initiative," says Africa Prize judge, John Lazar. "It's a privilege for the Royal Academy of Engineering to be able to support these founders, and to highlight and showcase world-class African innovation."
The finalists were selected from a pool of 16 shortlisted candidates from six countries, with five women among them.
"For eight months, the shortlisted engineers have received tailored training and mentorship. This has helped them develop skills and networks to continue to grow as business leaders," added Lazar.
From Kenya, Sign-IO combines a mobile app with smart gloves that track and translate sign language movements into speech and text in real time. The intelligent system was designed by Roy Allela and is being developed in conjunction with young users that have hearing and speech impediments. Hardware embedded inside the glove reads the user's movements, which the mobile app translates to speech immediately. Users can set the gender, pitch and tempo of the voice representing them.
Kenya has an estimated 600,000 sign language users, and the Sign-IO team aims to set up a local production facility for the components needed for the smart glove. Since being shortlisted for the Africa Prize, Sign-IO has added business skills to the company team, streamlined finances, improved transparency and refined its business model.
KAOSHI is a Nigerian mobile app that connects money senders across the globe. It facilitates peer to peer money exchange, circumventing the need to send money across borders. KAOSHI users within and outside of Africa are connected to each other in order to exchange funds between users sending money in opposite directions. Instead of transferring money into Nigeria from the UK, for example, a user finds someone who wants to send money into the UK from Nigeria, and both recipients get money in their own currencies. The cost of sending money to and between African countries can be as much as 20% higher than the global average. KAOSHI's Chukwunonso Arinze believes that the high cost of transferring money to and between African countries, as well as the hassle of long queues at financial institutions, should be a thing of the past.
Since joining the Africa Prize shortlist, KAOSHI has partnered with banks in Nigeria and Ghana, more than doubled its team, and is raising investment to expand to a dozen banks within two years.
A smart locker system in South Africa is helping patients in public healthcare facilities to access long-term medicine faster. Pelebox, developed by Neo Hutiri, is a simple wall of lockers controlled by a digital system that allows healthcare workers to stock prescription refills. Pelebox sends patients a one-time PIN, which they enter into the user panel on the locker to access their medicine. Pelebox eases pressure on the healthcare system and by streamlining the process for those collecting prescriptions, shortens queues for all patients using public healthcare facilities.
South Africa has the biggest antiretroviral therapy programme in the world, with more than 4.7 million patients collecting monthly treatment from public facilities. Pelebox gives those patients access to their medicine within 36 seconds, in contrast to the average 3.5 hours it takes in other facilities. While shortlisted for the Africa Prize, mentors have helped the Pelebox team change their focus from product development to manufacturing, and obtain a trade mark for the brand.
From Uganda, Smart Havens Africa are sustainable, smart homes built from appropriate and affordable technologies, geared towards making home ownership more accessible to African women. Technologies include locally designed brickmaking that uses less material, designs that reduce temperatures in hot climates, custom biodigesters, and solar water and electricity installations to keep utility costs down.
Co-founder Anne Rweyora, a teacher by training, believes home ownership should be more attainable to the average working woman.
In Africa, only 13% of women have sole-ownership of housing, with three times more men owning homes outright. The Smart Havens rent-to-own plan helps women buy homes without increasing debt and poverty. Africa Prize training resulted in an entirely new, more scalable business model and more detailed customer insights. The Smart Havens team have also created an online system for applicants, and developed partnerships with financial institutions and development organisations through media exposure.
The 2019 finalists will pitch their innovations to a panel of judges and a live audience in Kampala, Uganda on Tuesday, 4 June 2019. The winner will be announced at the event and will receive £25,000 with £10,000 awarded to each of the runners up. The fifth Africa Prize winner will join the ranks of previous winning innovations, which include Nanofilter, a Tanzanian water filtration system that uses nanotechnology to remove pollutants from water, CardioPad, a world-first mobile cardiology diagnostic from Cameroon, Tuteria, a Nigerian education app that connects tutors to students in everything from trade skills to school subjects, and Matibabu, a rapid malaria test from Uganda.
The Africa Prize is the continent's biggest prize dedicated to developing the entrepreneurial skills of engineers.
The sixth Africa Prize for Engineering Innovation is now open. Individuals and small teams living and working in sub-Saharan Africa, and who have an engineering innovation, are invited to enter. Potential entrants can find more information here. The deadline for entries is 22 July 2019.
The other 12 candidates on the 2019 Africa Prize shortlist are:
3-D-3-P Industrial dryer, Professor Dele Sanni from Nigeria – an industrial food dryer that dries grain for livestock feed faster, and increases the nutritional value of food stocks
Baby Delivery Kits, Muzalema Mwanza from Zambia – disposable, affordable and comprehensive equipment that helps midwives deliver babies safely
Chanjoplus, Collince Oluoch from Kenya – an online platform that tracks immunisation data, helping health workers ensure all children are vaccinated
Elo-Cart, Kenneth Guantai from Kenya – a battery powered system that recoups energy from motion to self-power hand carts, used by traders, farmers and health workers
Hybrid Parallel-Serial Machine tool, Dr Lukas du Plessis from South Africa – a hybrid machine tool that increases productivity, but costs less than traditional machine tools to manufacture
JuakaliSmart, James Ochuka from Kenya – an online platform that connects 'Juakali', or informal artisans, directly to their customers
Majik Water, Beth Koigi from Kenya – a technique for harvesting water from the air to provide a new source of affordable, clean drinking water for off-grid communities
Smart Brooder, George Kimani from Kenya – the system that takes the guess work out of poultry farming, automating heating according to animals' ages
SolarKoodo, Safiatou Nana from Burkina Faso – a solar irrigation system that uniquely caters for semi-arid areas where precision and efficiency are essential
The Vertical Farm, Paul Matovu from Uganda – a 'farm-in-a-box' for urban areas, using urban waste to grow high yielding plants
WellNewMe, Dr Obi Igbokwe from Nigeria – an algorithmic approach to proactively identifying people at risk of contracting non-communicable diseases
Zenafri, Elizabeth Kperrun from Nigeria – an app that teaches toddlers basic language and numeracy skills in their native tongue
Notes to editors
A full set of photographs can be found here: https://bit.ly/2DuLxYo
About the Africa Prize for Engineering Innovation
The Africa Prize for Engineering Innovation, founded by the Royal Academy of Engineering, is Africa's biggest prize dedicated to engineering innovation. It encourages talented sub-Saharan African engineers, from all disciplines, to develop local solutions to challenges in their communities. The Prize selects innovators from across the continent and provides training and mentoring to help turn engineers with incredible ideas into successful entrepreneurs.
Launched in 2014, the Prize aims to stimulate, celebrate and reward innovative engineers from across the continent.